Pengenalan kepada Tumbuhan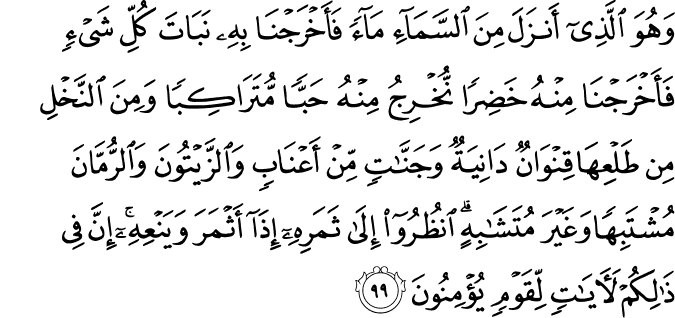 Dan Dialah yang menurunkan air hujan dari langit, lalu Kami tumbuhkan dengan air itu segala macam tumbuh-tumbuhan maka Kami keluarkan dari tumbuh-tumbuhan itu tanaman yang menghijau. Kami keluarkan dari tanaman yang menghijau itu butir yang banyak; dan dari mayang korma mengurai tangkai-tangkai yang menjulai, dan kebun-kebun anggur, dan (Kami keluarkan pula) zaitun dan delima yang serupa dan yang tidak serupa. Perhatikanlah buahnya di waktu pohonnya berbuah dan (perhatikan pulalah) kematangannya. Sesungguhnya pada yang demikian itu ada tanda-tanda (kekuasaan Allah) bagi orang-orang yang beriman.(QS Al-An'am: 99)

Tidakkah engkau memerhatikan, bahawa Allah menurunkan hujan dari langit, lalu dialirkannya menjadi matair-matair di bumi; kemudian Ia menumbuhkan dengan air itu tanaman-tanaman yang berbagai jenis dan warnanya; kemudian tanaman-tanaman itu bergerak segar (hingga ke suatu masa yang tertentu), selepas itu engkau melihatmu berupa kuning; kemudian Ia menjadikannya hancur bersepai? Sesungguhnya segala yang tersebut itu mengandungi peringatan yang menyedarkan orang-orang yang berakal sempurna.
(Az-Zumar 39:21)
Overview:
All About Plants by Montessori for Everyone
Hari Per-1
Bincang ciri-ciri tumbuhan dan keperluannya. Tunjukkan gambar dan kenalpasti yang mana tumbuhan atau tidak. Beri gambar haiwan, cendawan dan tumbuhan. Printable di Helpful Garden. Bincangkan ciri dan kenalpasti. (akan keliru tentang cendawan).
Kemudian, tunjuk bahagian-bahagian umum yang ada pada tumbuhan.
Video: Magic School Bus
Magic School Bus Gets Planted
Caillou: Can compost, Tree & Saves Water
The Needs of Plant song.
Aktiviti: Nature Walk / Scavenger Hunt sambil kutip tumbuhan, daun-daun, bunga-bunga untuk aktiviti seterusnya.
Ambil satu tumbuhan yang ada akar dan kenalpasti bahagian tumbuhan.
Hari Ke-2: Menanam benih & Pelbagai Kegunaan Tumbuhan
Narrated Anas:

that the Prophet (ﷺ) said: "No Muslim plants a plant or sows a crop, then a person, or a bird, or an animal eats from it, except that it will be charity for him."
Eksperimen Keperluan Tumbuhan:
Sediakan 4 bekas/dulang. Letakkan kapas pada semua bekas sebagai base, dan tabur setengah sudu benih-benih ke dalam setiap dulang.
Tanya "Apa yang tumbuhan ini perlukan?"
Bila cakap air, tuangkan sedikit air ke dalam tiga daripada empat bekas. Letak label "Tiada air".
Bila cakap perlu haba, letak label "Tiada haba," – dalam peti dengan torch "Tiada cahaya," – letak dalam almari.
Yang terakhir, dapat cahaya, haba dan air." Minta pendapat mana nak letak. Ingat beri air pada bekas yang tiada cahaya dan haba.
| | | | |
| --- | --- | --- | --- |
| | Air | Haba | Cahaya |
| 1 | / | / | / |
| 2 | / | / | |
| 3 | / | | / |
| 4 | | / | / |
Sentiasa siram dan rekod perkembangan.
Eksperimen Tumbuhan Perlukan Cahaya:
Perlukah benih kepada tanah dan cahaya untuk tumbuh?
Atau cara lain untuk aktiviti menanam untuk kanak-kanak:
Tanam guna bulb dan benih by Buggy and Buddy
Bulb Growth Chart at Parents.com
Grow seeds in a jar by Teaching Mama
Growing beans on cotton balls by The Imagination Tree
Video: Mana-mana time lapse video di youtube.
Other Activities: Flower Sequencing by Montessori Training
Germination Stencil by Ellen McHenry
Pelbagai Kegunaan Tumbuhan
Bincang pelbagai kegunaan harian yang berasal dari tumbuhan.