Tumbuhan di sekeliling dan dalam kehidupan seharian
Mulanya perkenalkan Haris dengan pokok-pokok lazim di Malaysia. Seperti rumput, pokok pisang, pokok mangga dan lain-lain.
My initial idea was to get to know the plants around our house area first, since honestly, I have no idea what they are except pokok bunga kertas, lidah buaya etc. But that'd be our long time project, I think. Untuk buat jurnal dengan setiap tumbuhan yang jumpa, ambil gambar dan cari maklumat.
Kali ini, guna powerpoint untuk tunjuk Haris dan Hana gambar pokok-pokok lazim, pokok bunga, buah dan sayur-sayuran. Buat mereka lagi minat bila laptop sambung pada tv. Gambar lagi nampak besar dan jelas.. Lepas tu fikir, kenapa tidak tambah dari mana makanan seharian yang mereka makan, datang, jadi bertambahlah koleksi slides.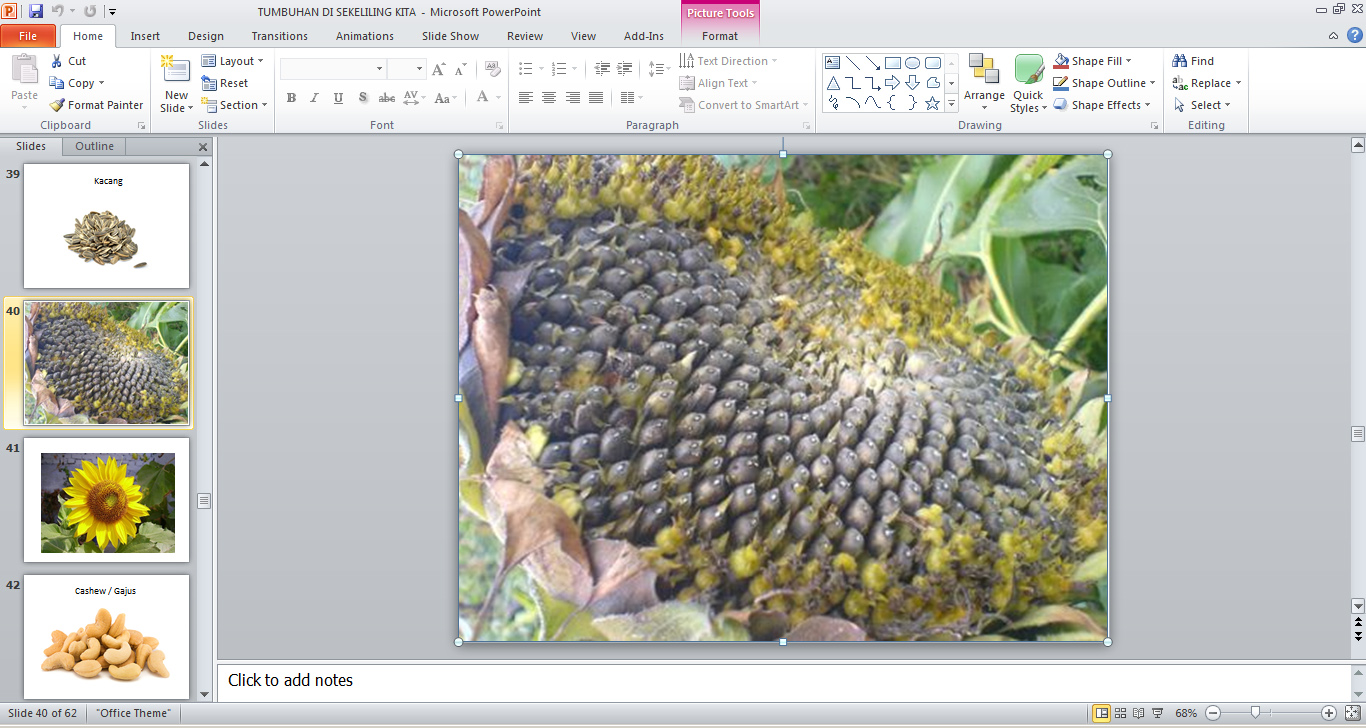 When it comes to sunflower seeds which he only refers to as kacang, I asked, dari mana kacang ini datang? Lepas tu tunjuk gambar close-up bunga matahari yang boleh nampak jelas benih tu. Lepas tu, tada! Gambar bunga. His expression was priceless! He totally didn't expect it. Sama dengan kacang gajus juga. Ha.
Lepas tu, bincang, setiap bahagian tumbuhan tu kita makan. Jadi minta Haris identify setiap tumbuhan yang kita makan tu adalah bahagian mana, contoh, sayur sawi bahagian daun, kacang adalah benih, sayur seperti celery asparagus, batang, buah, bahagian bunga dll.