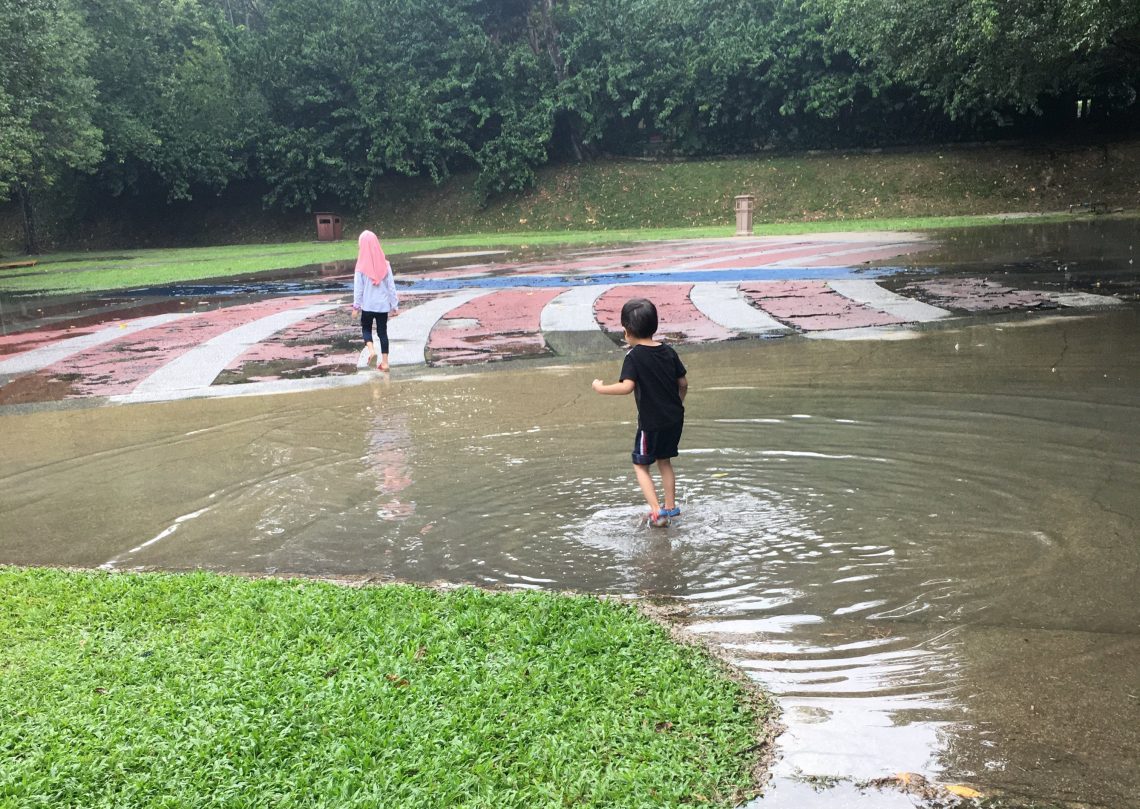 Minggu sebelum tu cuti je. Tak buat apa-apa aktiviti. They're allowed 2 hours of screentime.
Minggu ni pun sebenarnya tak plan apa-apa. My plan was to store all of the materials on shelves and tukar dengan new materials. Bukan 'baru' tapi kira ikut perkembangan terkini, interest, and what needs to be worked on.
Sebelum masuk storage, bagi dulu diorang buat. Contoh brown stair ni.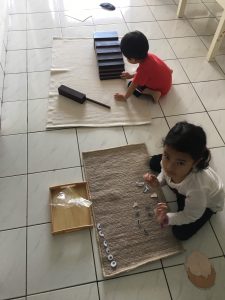 Bermula macam ni. Abang tengok, took interest and built a tower.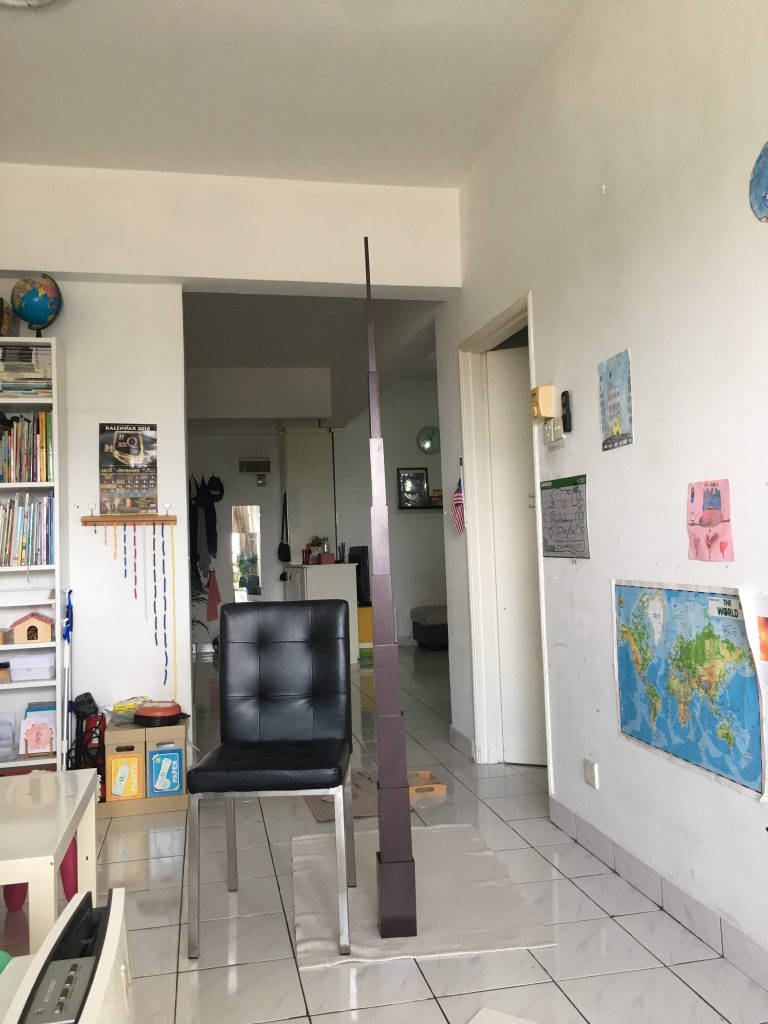 Which leads to this;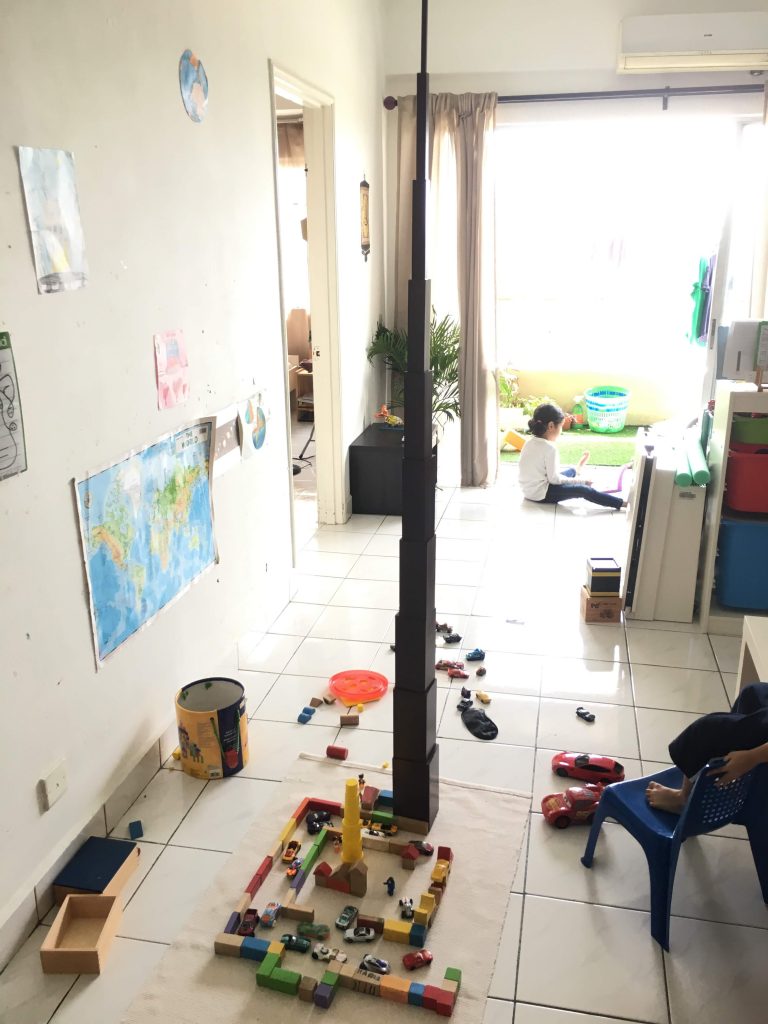 Hana sambung buat latihan Addition Strip Board.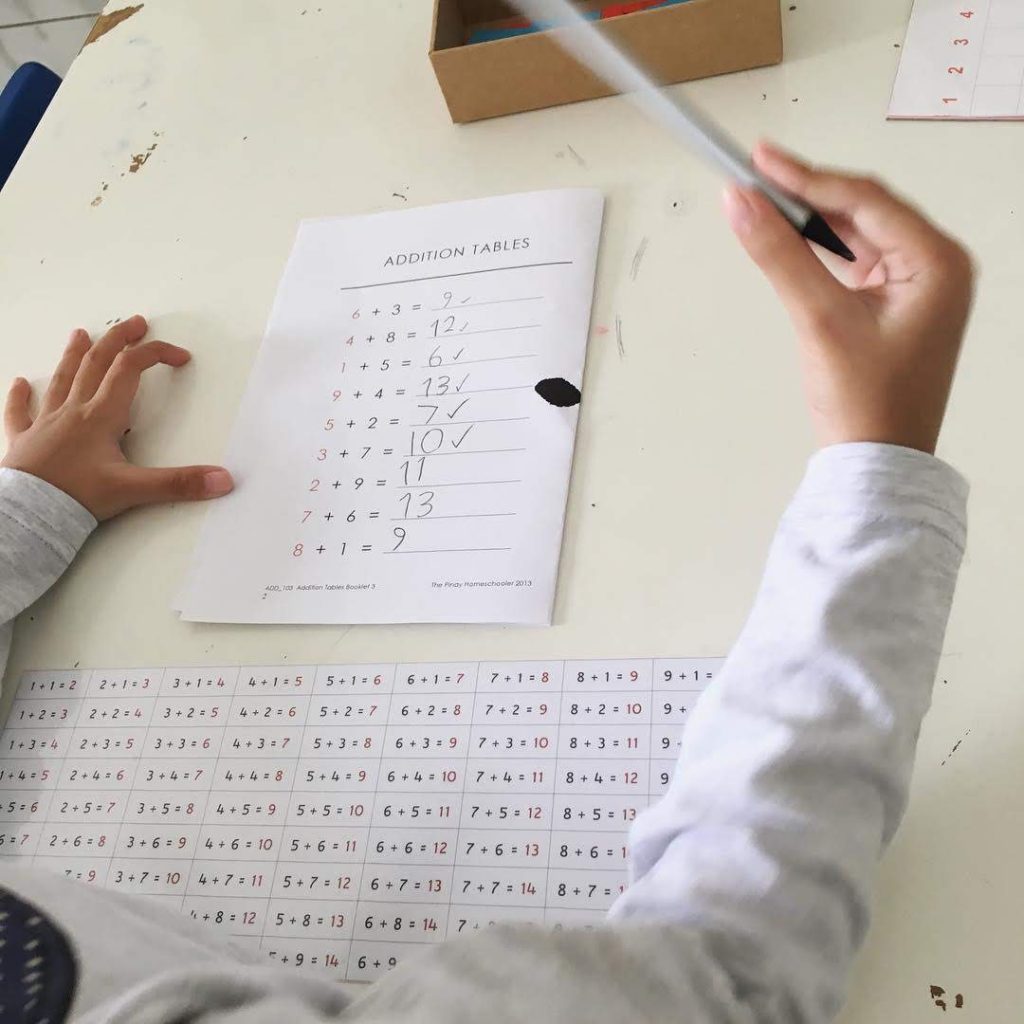 Tapi gambar yang atas ni Hana buat tak guna Strip Board, kira sendiri dan check jawapan dengan Chart #1. Saya ambil juga Strip Board untuk Hana buat tapi Hana tak nak. 1. Sebab tak nak susun strip. 2. Sebab bila susun strip tu dia cam gerak dan susah nak susun sebab licin. So that frustrates her.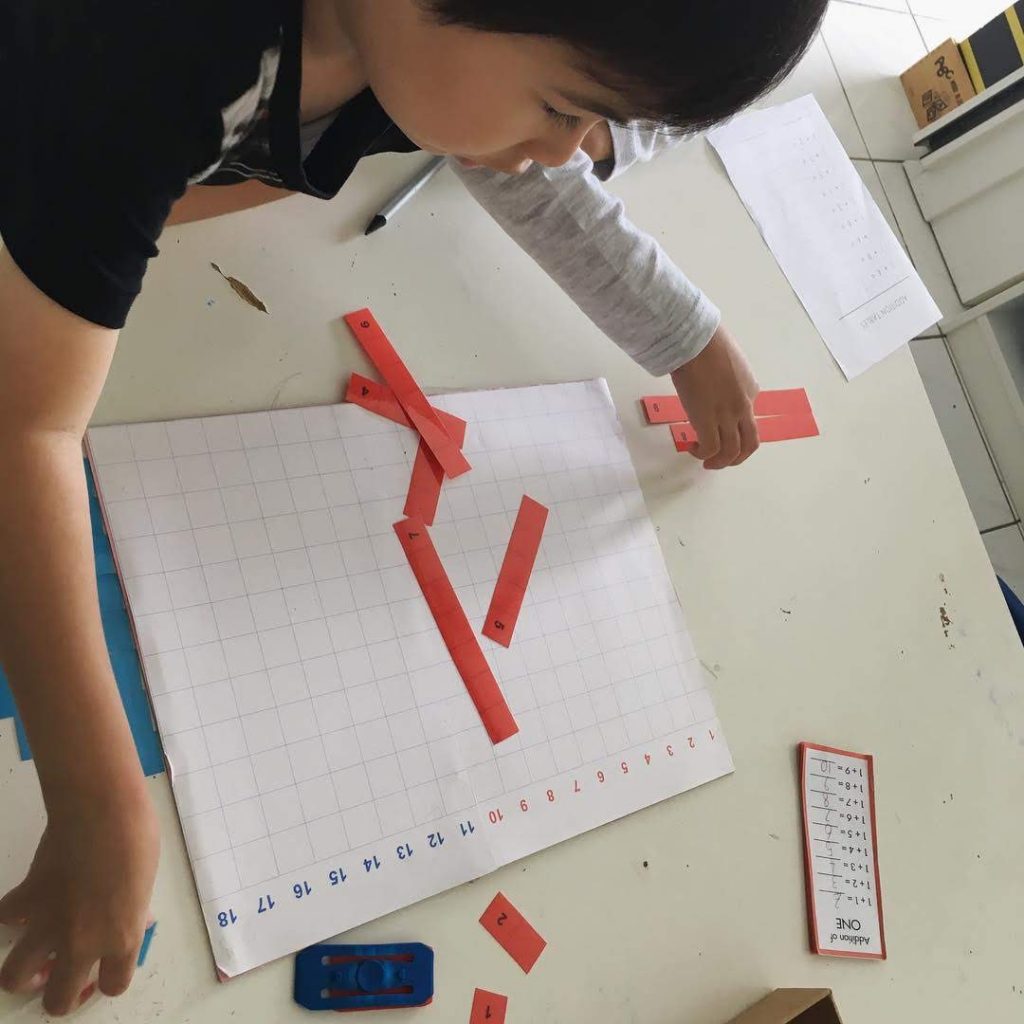 Aqeel tunjuk minat dan minta2 nak buat.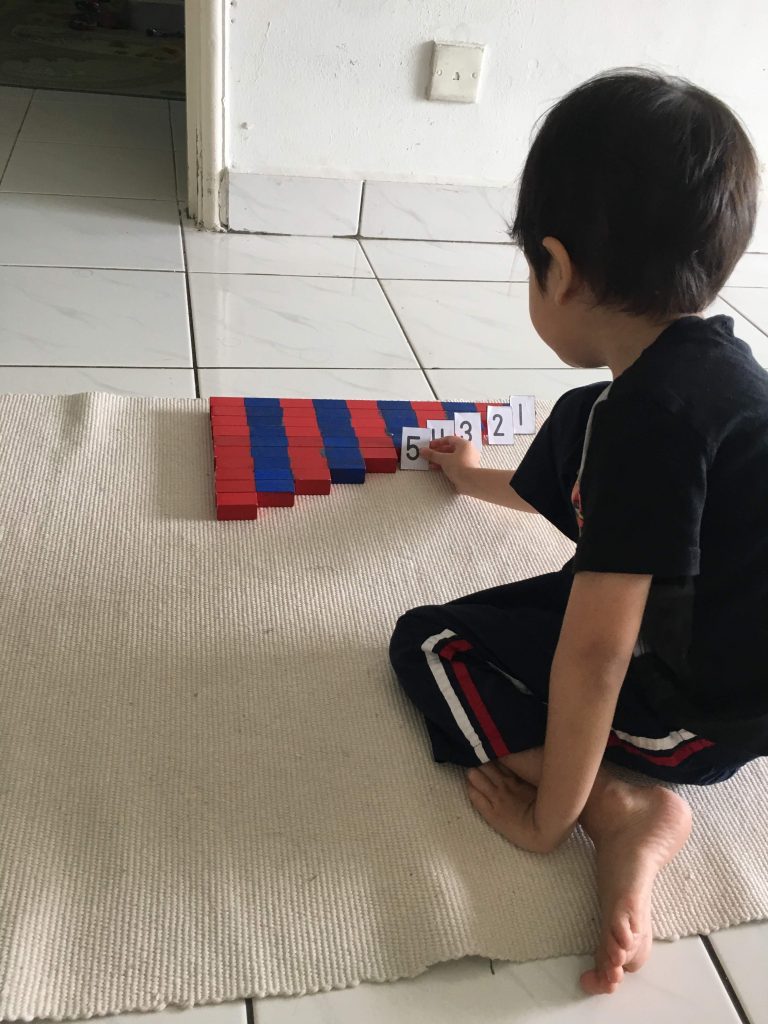 Jadi keluarkan semula Number Rods ni (tak display di shelf sebab dia cam dah tak minat and passed this stage) untuk ikut macam kakak. Saya duduk belakang perhati. Mula-mula Aqeel susun macam ni. Perasan salah, susun macam ni pula.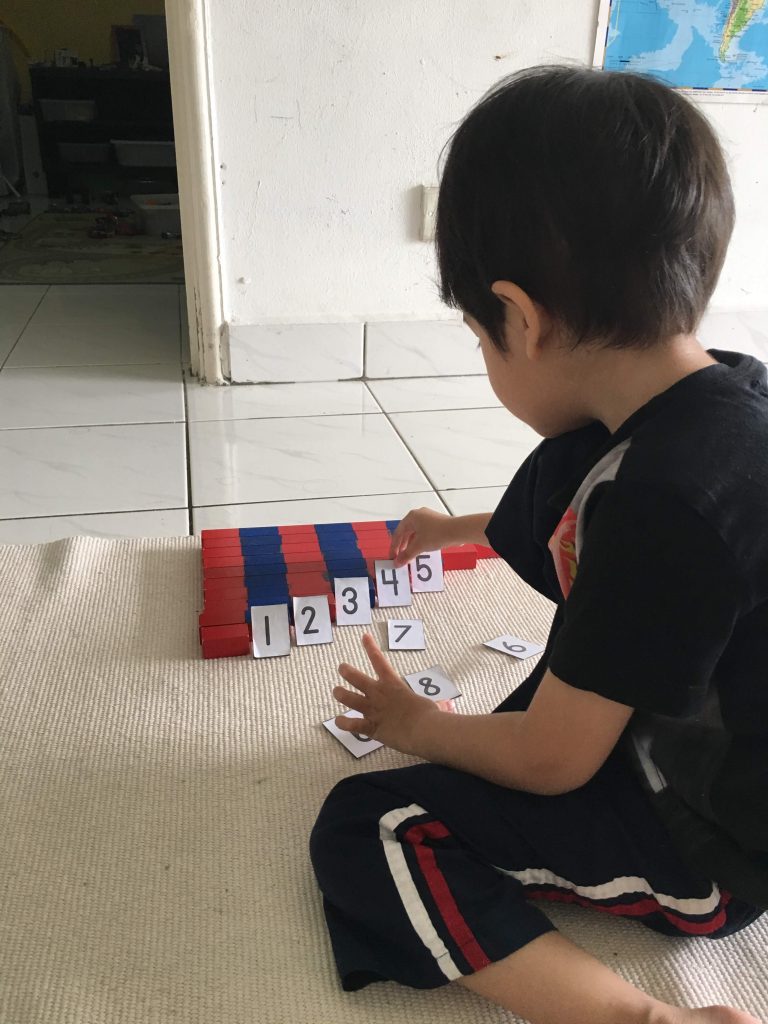 Perasan salah lagi.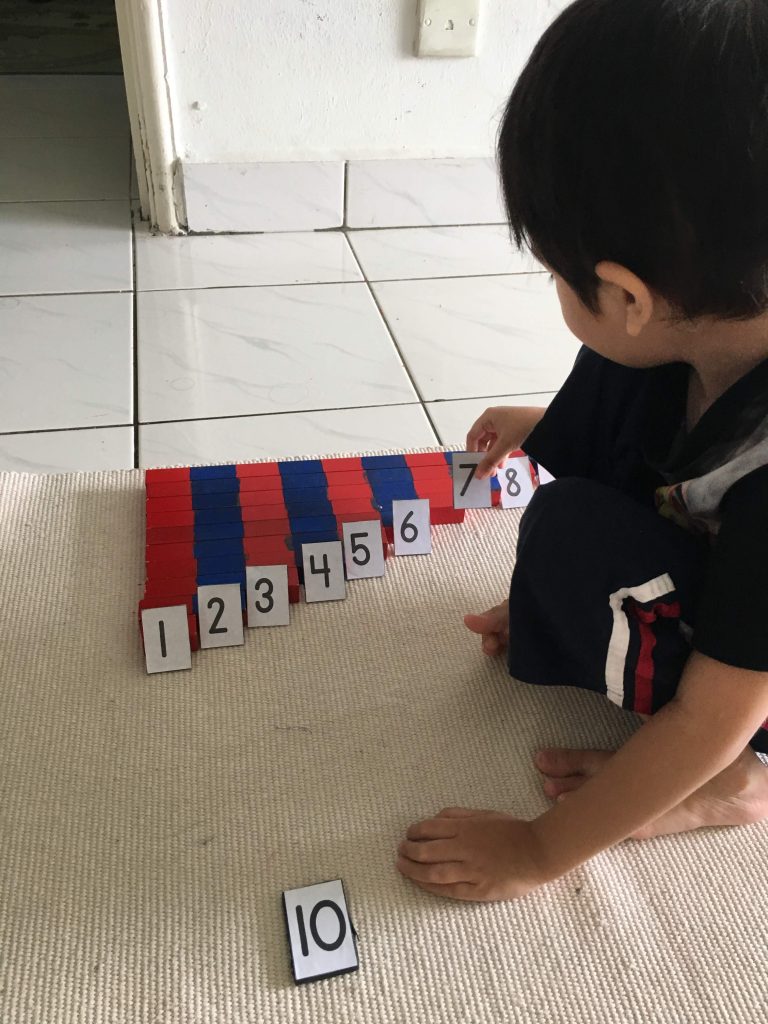 Akhirnya.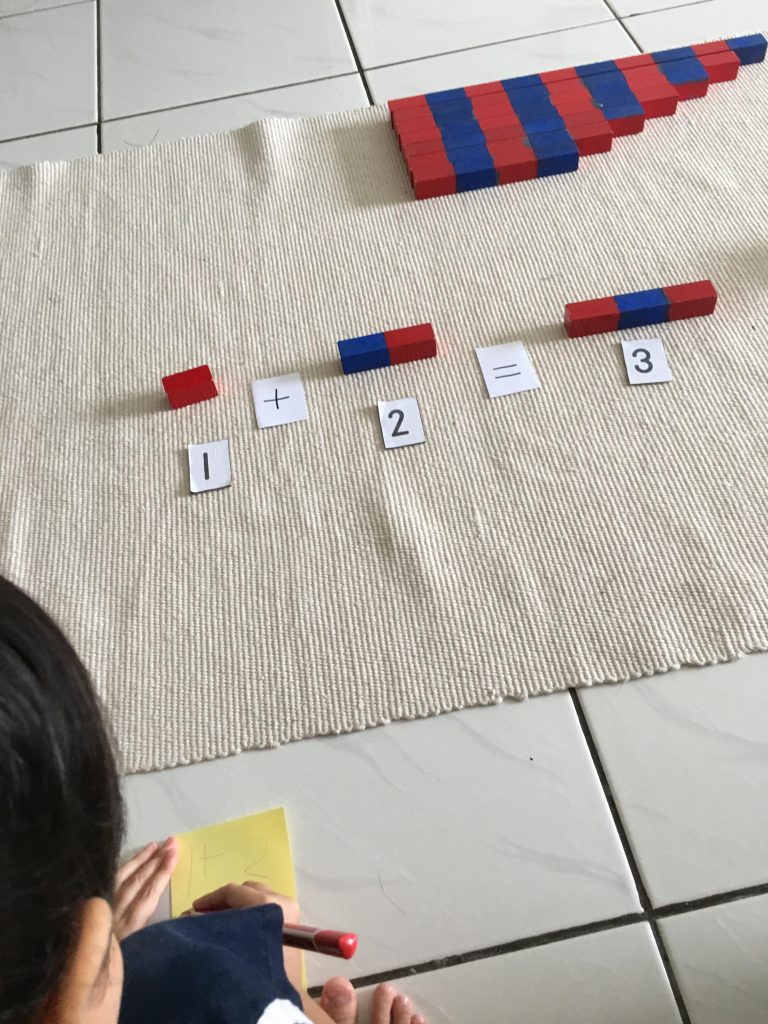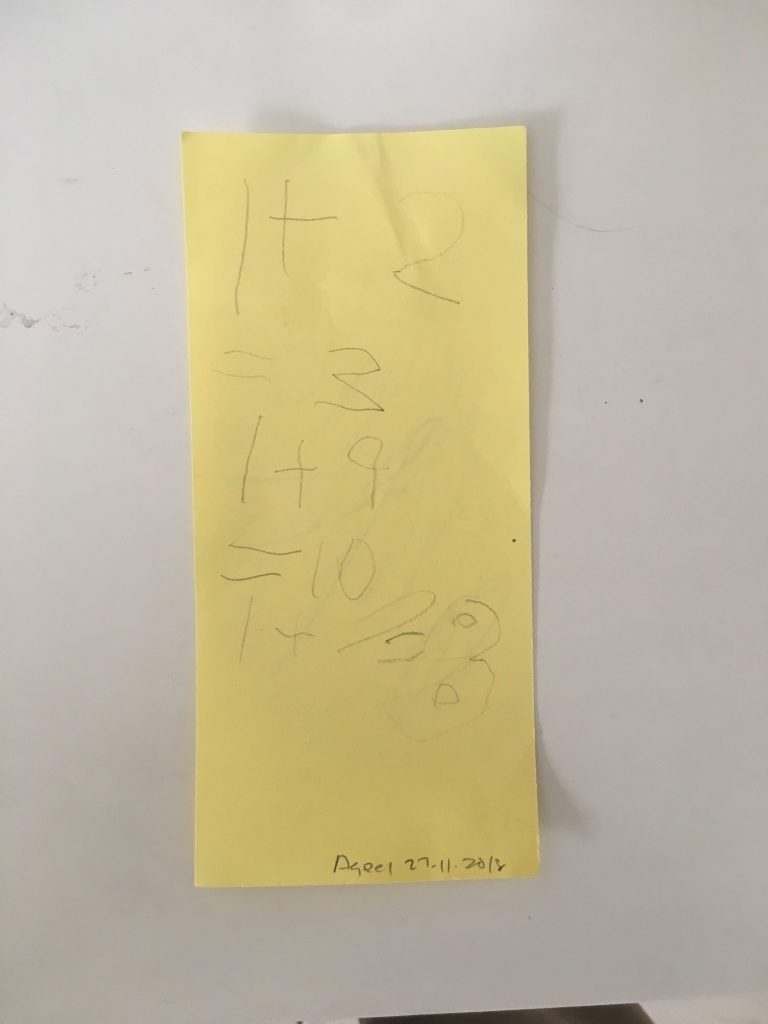 Disebabkan Hana tak nak guna Strip Board tadi tapi masih nak buat addition, terpaksa kenalkan dulu Finger Chart walaupun tak ikut sequence.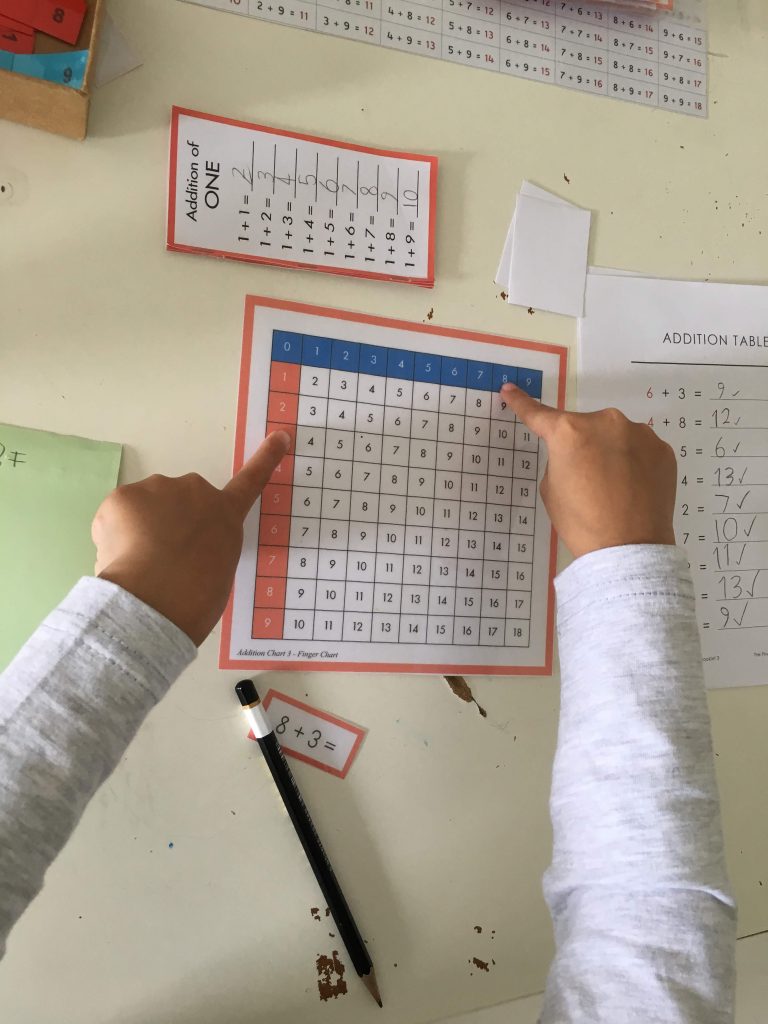 Addition slips, Finger Chart #1, Paper & Pen to record.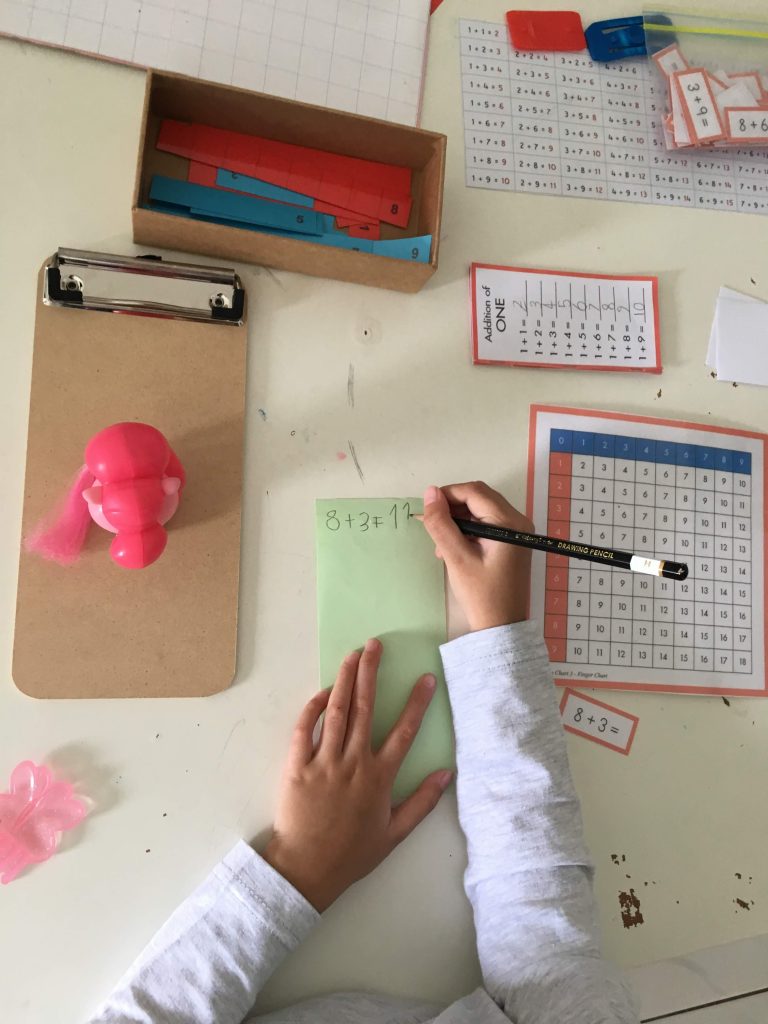 Minggu ni juga join MHsN Mini Sports Day, belah pagi ada badminton, kami tak join. Kami join belah petang, Dodgeball Clinic! Baru tahu rupanya it's an official sports dan Malaysia adalah World Champion! Jadi yang coach diorang adalah dua orang dari team Malaysia! Thank you See Ming for organising this!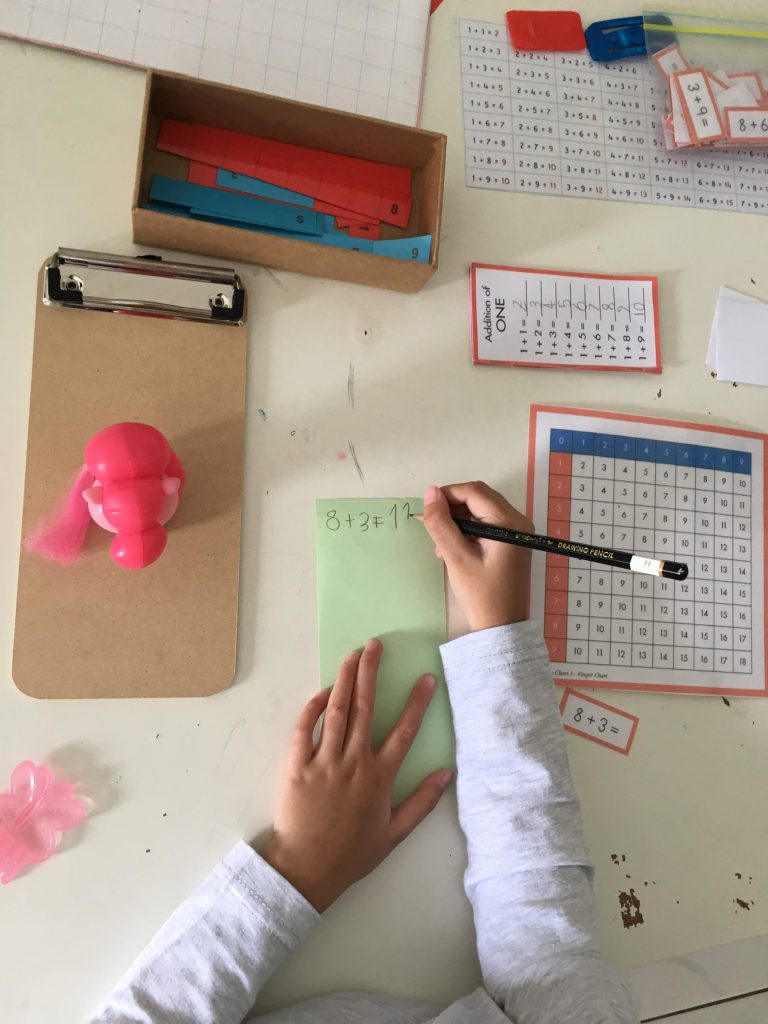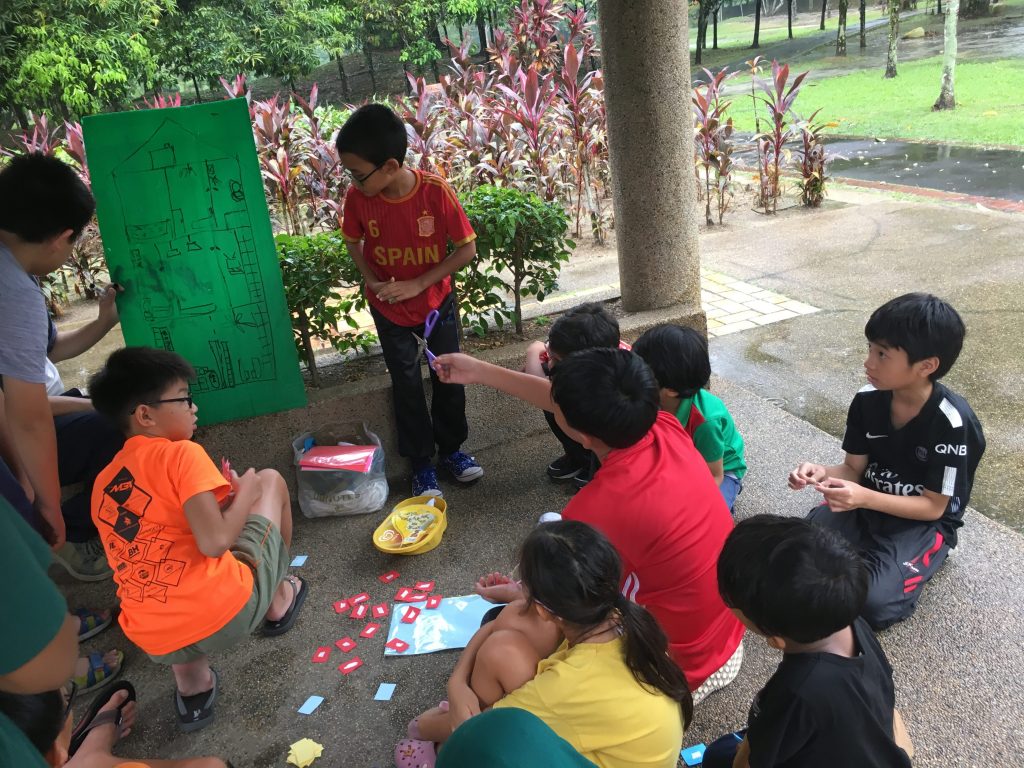 Berapa minggu dah tak dapat join kelas Scout, akhirnya! Minggu ni dapat join kelas Scout Mr Quek. Tapi hujan lebat. Biasa kalau hujan pun kelas jalan juga. Ada pondok dekat padang jadi biasanya buat bawah ni. Mama, Hana, Aqeel terpaksa stay dalam kereta sambil tunggu Abang. Lagipun Aqeel tidur. Setengah jam camtu, Hana mula bosan. Ada motor aiskrim yang biasa datang setiap minggu berteduh kat situ. Hana mula minta aiskrimlah, nak tengok abanglah. Kejut Aqeel turun, dapat makan aiskrim, hujan mula renyai, SPLASH!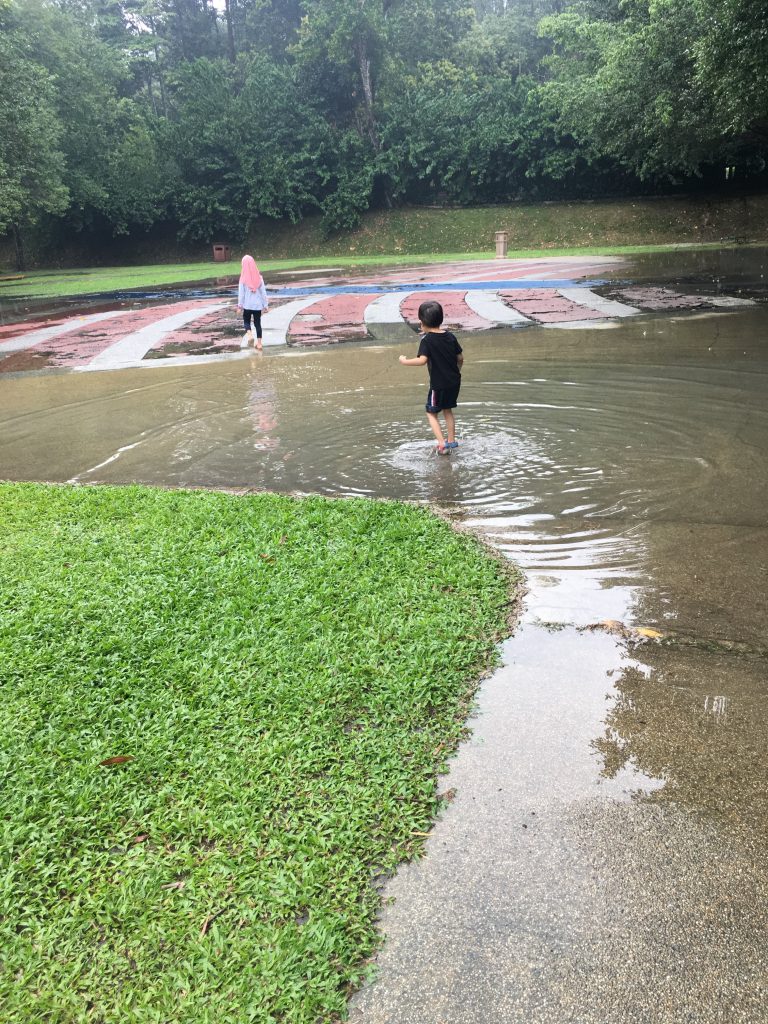 Dapat dengar sikit buat aktiviti apa minggu ni. Mr Quek lukis rumah, dan tanya apa ada dalam rumah. Ada cakap pintu, swimming pool, bathtub, dapur dll. Dan diorang kena identify mana tempat yang bahaya dalam rumah. Ada 3-4 group rasanya. Setiap group dapat kertas warna masing-masing. Seronok tengok diorang tampal-tampal mana tempat bahaya dalam rumah. Satu yang kelakar tampal toilet bowl. "Because water snake could come out from the toilet bowl." I'm really enjoying their interactions and how Mr Quek handle them. Conclusion: "THERE IS NO SAFE PLACE IN THE HOUSE!" Lol Mr Quek. Budak-budak ni tampal je semua. Then discuss jawapan, safe ke tak, safety measures etc.
Esoknya Hana buat What Makes Ten, Commutative law; cari kombinasi sama, dan potong yang sama dalam chart #1, kenalkan chart #2.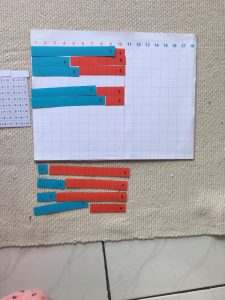 Hana nak buat lagi jadi cuba buat addition slip problems dan double, 1+1, 2+2, 3+3. From now on check jawapan guna Chart #2. Tunjuk sekali je Hana dapat tahu. Problem 9+1, cari di chart jumpa, dan next 2+9, dia cari takde, dan saya tanya, mana lagi boleh tengok 2+9, it takes a while untuk dia cari dan jumpa dan next problem dia dah tahu dah.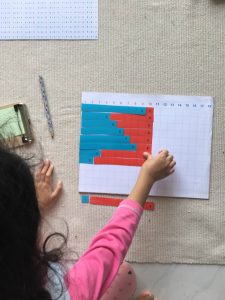 Abang pula masih lagi buat topik darab. Ini kami guna buku Singapore Math grade 3.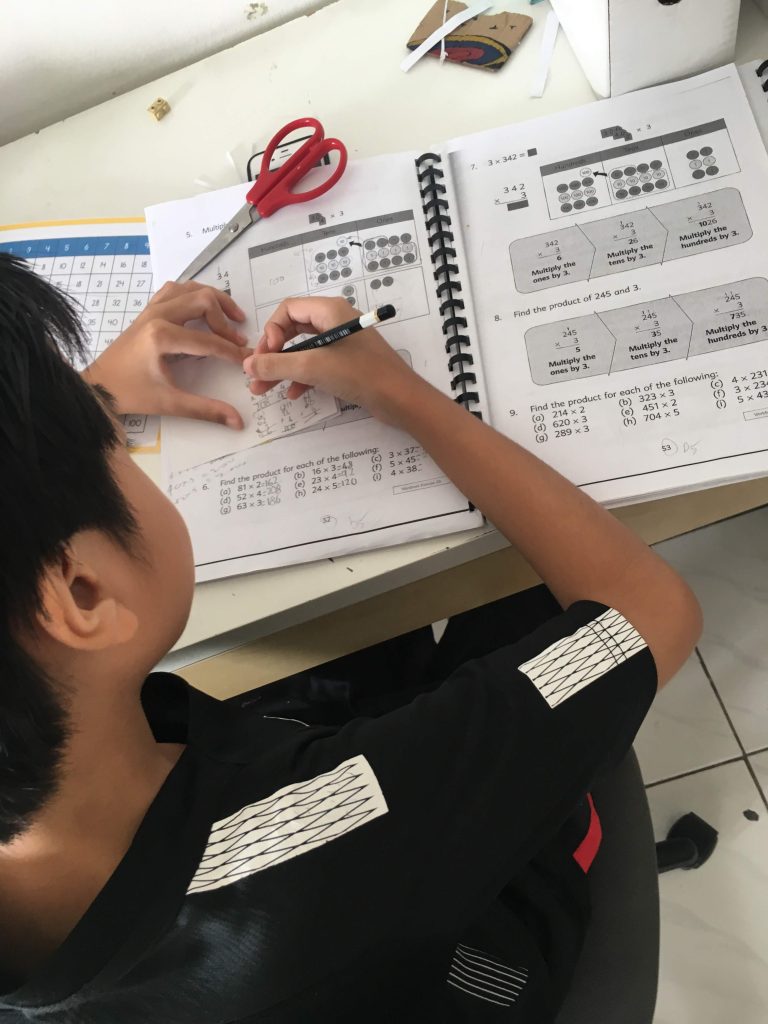 Haris suku buat buku. Jadi ni dia buat buku khas untuk tulis operasi dan jawapan masalah matematik hari ni.
Abang masih belum hafal sifir, kadang kami guna Math Mammoth dan kadang guna Singapore Math. Untuk darab, Math Mammoth punya silibus perlukan menghafal dan Haris having trouble nak hafal. Hmm. Jadi untuk ni guna Singapore Math, mula-mula jadi slow sebab suruh dia kira sendiri darab sendiri, jadi dia tak nak, asyik lambat je. Kali ni nak bagi cepat (sebab nak cepat habiskan pun ye, huhu) guna Montessori Multiplication Finger Chart, hoping that this will keep him interested dan help him memorise bila buat banyak kali. Dan dua kali buat dia cam sukalah, wah tengok ni laju je buat. Tapi bila bab Word Problems tu yang macam hmm dia struggle sikit. Need to work on. Dia cam susah nak imagine….