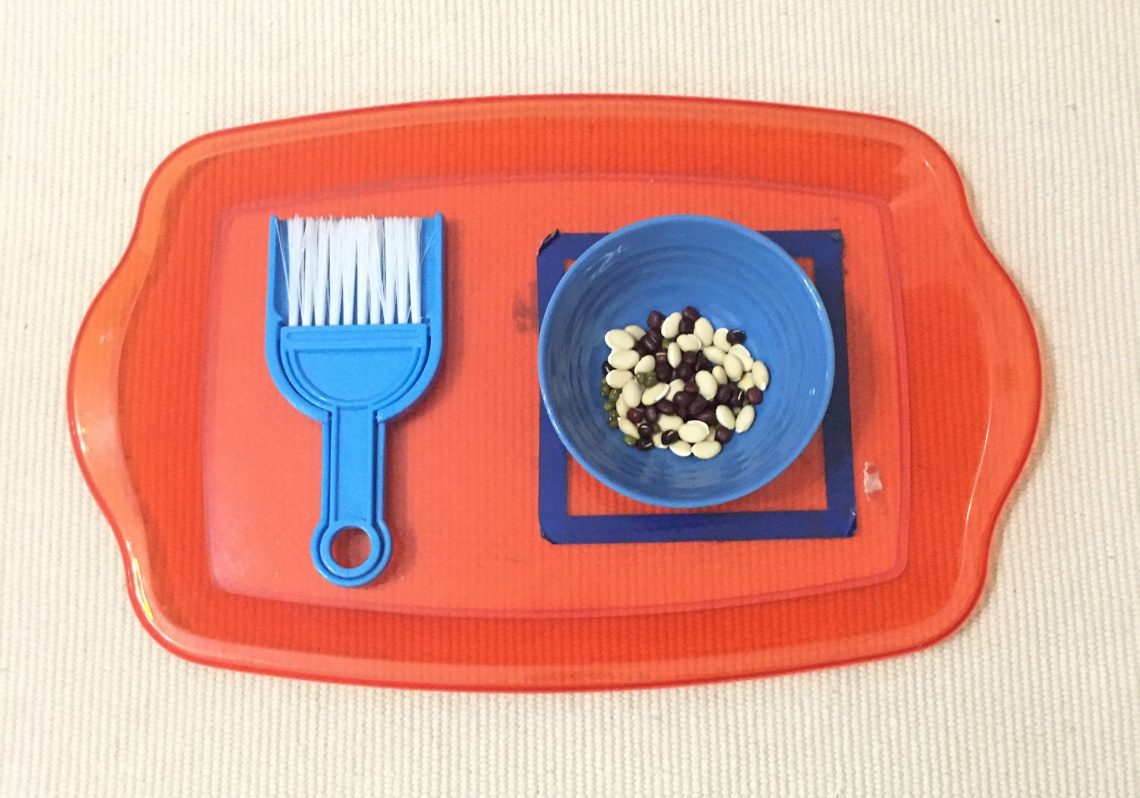 Menyapu di tray / Sweeping on tray
Tujuan:
Penggunaan peralatan yang betul (following sequence)
Coordination of movement; whole body
Care of environment
Peringkat toddler, 18 bulan ke atas, boleh cuba sediakan seperti di bawah.
Peralatan:
Berus tangan kecil (boleh dapatkan di sini)
Kekacang + mangkuk (boleh pelbagaikan untuk tarik minat buat, contoh bread/cookies crumbs, benih-benih, flower petals, cebisan kertas kecil, confetti dll)
Tray + tape square
Presentation:
Angkat berus tangan dan letak di luar tray.
Pegang mangkuk, angkat dan taburkan kekacang bertaburan di atas tray. Mangkuk diletakkan di luar tray.
Ambil berus tangan dan sapu semua kekacang masuk ke dalam taped square.
Ambil brush pan, letak di hujung tape, sengetkan sedikit dan sapu kekacang masuk ke dalam brush pan.
Angkat brush pan, sengetkan sedikit untuk kekacang tidak jatuh dan kekacang di masukkan semula ke dalam mangkuk.
Jika ada yang tertumpah, guna tiga jari (pincer grasp) untuk kutip kekacang yang jatuh.
Ulang sehingga kekacang habis disapu.
Letak semula semua bahan seperti sediakala.
Ajak mereka buat.
Nota:
Dah mahir dengan kekacang, boleh cuba dengan bahan yang lebih halus.
Aktiviti ini boleh letak di shelf atau di lantai berdekatan cleaning area.
Idea-idea lain di blog: