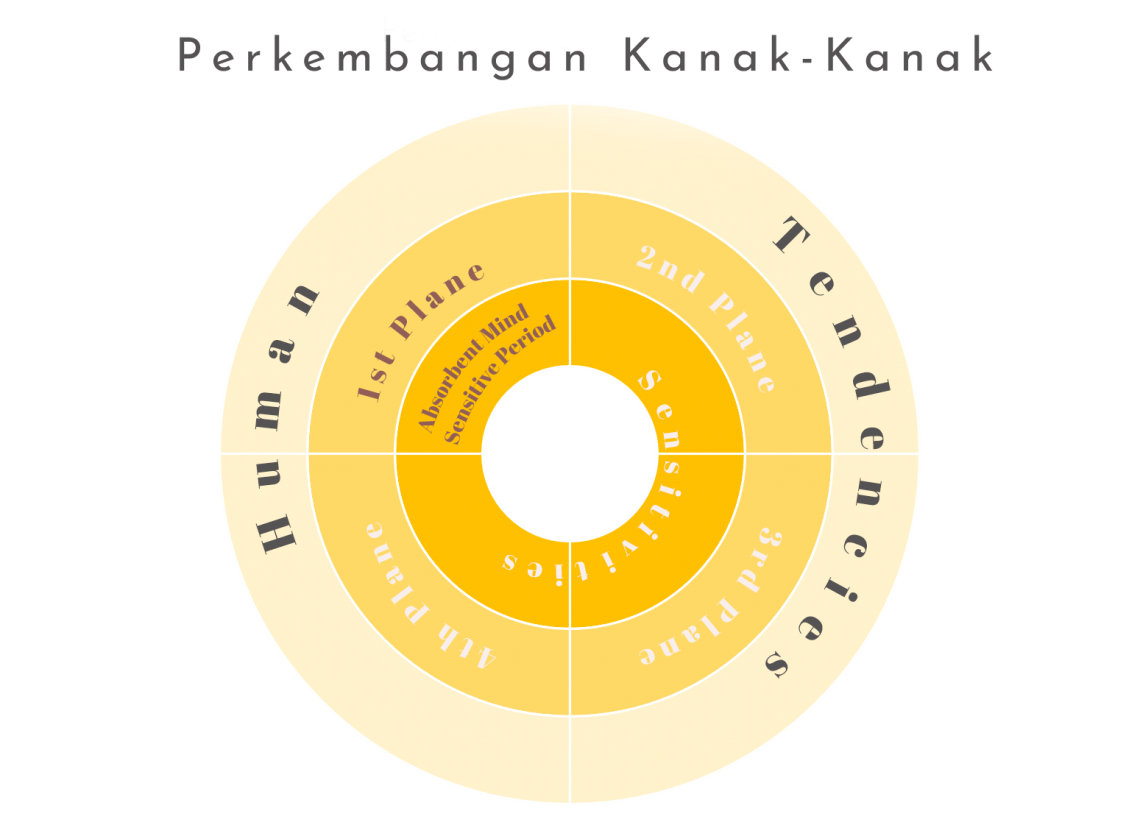 Dalam Montessori, bila kita nak bantu kanak-kanak dalam perkembangan mereka, kita tengok bagaimana mereka berkembang/develop, apa yang diperlukan untuk mereka berkembang etc. Dan setiap kali, Montessorian akan tengok pada elemen-elemen di atas. Lebih kurang macam formulalah kiranya. Dan ini cara saya visualisenya.
Pertamanya, kita tengok pada Human Tendencies yang mana ianya ada dalam setiap manusia. Kecenderungan ini yang membuatkan kita melakukan apa yang kita perlu lakukan untuk hidup. Contoh semua manusia cenderung untuk preserve – to survive, fulfill basic needs, explore, to orientate, order, communication, work etc. Cuma bagaimana kita melakukannya ini ditunjukkan denga cara berbeza pada setiap peringkat. Cth kanak-kanak 1st plane explore environment secara sensorial dan 2nd place explore secara imaginasi.
Kita tengok pula kanak-kanak berada di peringkat yang mana. Peringkat ini dipanggil The Four Planes of Development. Dibahagikan kepada 4 peringkat dan setiap peringkat tempohnya lebih kurang 6 tahun. Kanak-kanak pada setiap peringkat ini menunjukkan ciri-ciri tersendiri, keperluan tersendiri dan cara berkembang yang berbeza. Contoh, kanak2 di 1st plane (0-6 tahun), strive untuk physical independence, di 2nd plane (6-12 tahun) strive untuk intellectual independence, 3rd plane (12-18 tahun) strive untuk emotional independence dan 4th plane (18-24 tahun) strive untuk financial independence. Sebab itu cara kita pandang, communicate dan prepare environment kepada mereka lain sama sekali.
Kita zoom pula apa yang ada pada setiap peringkat. Cth 1st plane. Ada dua ciri-ciri utama yang mereka ada, iaitu Absorbent Mind dan Sensitive Period. Secara umumnya, Absorbent Mind ini membantu kanak-kanak menyerap apa sahaja di dalam persekitaran mereka untuk membina diri mereka dan adapt dengan persekitaran mereka dan Sensitive Period yang bantu mereka fokuskan diri mereka untuk capai certain-certain skills.
Contoh kanak-kanak 2 tahun. Kita lihat pada setiap kecenderungan di Human Tendencies, mereka perlu explore, perlu communicate perlu order, perlu orientate cthnya dan bagaimana kita bantu mereka capai ini. Mereka berada di peringkat 1st plane, mereka Unconscious Absorbent Mind, dan pada umur 2 tahun mereka sensitive period kepada bahasa – explosion of words, bercakap je, sensitive period pada order – tengah kemuncak, sensitive period pada movement – refining walking etc.