Introduction to Fractions
Pengenalan kepada pecahan! Bunyi susah kan untuk budak 4 tahun? Tapi dalam Montessori, pecahan dikenalkan pada awal usia. Pengenalannya simple je, untuk memberi pengenalan pecahan itu adalah sebahagian (equal parts) daripada keseluruhan. Kalau tengok banyak dalam aktiviti harian yang libatkan pecahan. "Hana, bagi biskut separuh pada Aqeel." Potong buah pisah separuh, potong suku-suku. Lipat kain. Jadi dalam Montessori ada apparatusnya khusus untuk pecahan.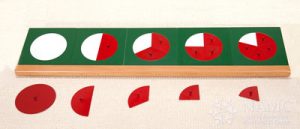 Tapi kosnya mahallah. Sekali lagi, untuk Montessori di Rumah, tak perlu dengan apparatus. Bagi saya cukup dengan konsep dan DIY. Kalau boleh afford dan cukup space, then go ahead. Sebab apparatus Montessori yang bestnya bukan hanya boleh guna untuk satu peringkat ni je. Contoh fractions ni, banyak guna untuk peringkat Elementary.
Dalam buku Gettman, dia dah sortkan peringkat-peringkat (scope of sequence) untuk kelima-lima subjek. Bila assess semula ada subjek yang Hana di peringkat 1, ada peringkat 2, ada peringkat 3. Untuk matematik Hana di peringkat 4. Sambil tunggu beads material sampai (sebab berbulan-buan tak boleh proceed dengan math sebab nak jugak tunggu cukup duit beli beads ?) baca-baca eh Hana dah boleh cuba intro fractions! Maka satu malam semalam study untuk fractions. (Lepas tu baru layan drama okay) Uhuk. Biasalah bila semua Diy kena cari mana printables yang elok yang jimat yang memenuhi fungsi. Tapi semua printables yang ada warna merahhhh. Nak jimat ink, last-last kena buat sendiri jugak print atas kertas merah je. Ha. Dari pagi sampai ketengahari pulaklah menyiapkannya. Kebetulan my cousin, 1 year older dari Hana datang, jadi boleh siapkan dengan tenangnya. Biasa bila cousins datang mama dah jadi macam invicible man. Tapi presentationnya kejap je, tak sampai 10 minit.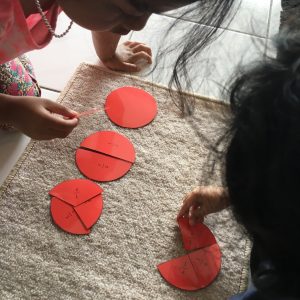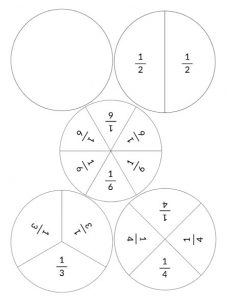 DOWNLOAD black and white labeled fractions here.
Mula-mula semua circles di tray. Ambil yang penuh beritahu "This is one whole." Letak. Ambil yang separuh, "This is one half." Minta cari lagi satu one half. Lengkapkan beritahu 1, 2 halves jadi one whole. Minta letakkan 2 halves tadi atas one whole. Sama tak? Sama. Macam pizza, hana dan mama nak makan, jadi potong dua sama banyak, Hana dapat satu (beri one half pada hana) mama dapat satu (one half lagi pada mama) Teruskan sehingga 1/4. Lepas tu Hana dan Dhia buat sendiri.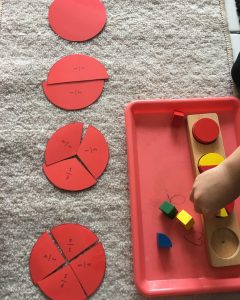 Beli puzzle ni beberapa tahun lepas untuk Haris. Hana masa sebesar Aqeel dah mula main-main. Jadi beri Dhia solve this puzzle. She struggles at first. Then Hana gets her turn.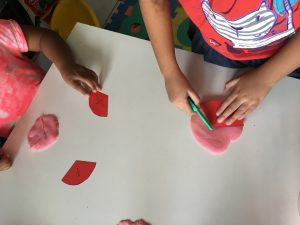 Next I gave mission to them to make circles out of the playdough and cuts the fractions. Yang ni seronok tengok Dhia dan Hana cuba potong2. Paling struggle potong tiga. Lepas tu mainlah playdough.
Boleh tonton macamana fractions dipersembahkan dalam kelas Montessori:
Cara persembahkan fractions di Info Montessori
Others:
Introducing Fractions & Continuing Fractions di Elementary Observations (elementary )
Montessori Fractions Beginning through Basic Operations di George Family
Building Fraction Knowledge with Montessori Materials di Montessori Training
Fractions (skrol bawah) di Montessori Album
Learning Fractions di How We Montessori
Fractions di Pink Princess Kingdom