Book: Applying Sun Tzu's Art of War in Managing Your Children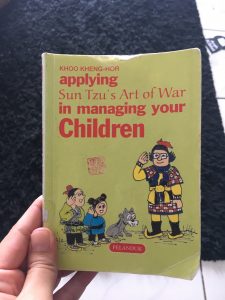 Applying Sun Tzu's Art of War in Managing your Children
Dalam banyak-banyak points yang ditulis dalam buku ni, ada beberapa point yang menarik dan boleh di apply diri sendiri:
Don't give them the wrong signals


Discipline is best enforced through educating your children by telling them "what's right and what's wrong." To scold or punish should be considered only as a last resort.

Bila apa yang dia buat tu tak OK, beritahu yang dia buat tu tak OK bukan biarkan je. Bila biarkan je anak akan rasa boleh buat camtu. Rasanya nampak banyak berlaku di luar sana terutamanya bila apa yang anak dia buat tu menyusahkan orang lain. Bukan marah, tapi nasihat. Apa yang tak OK dan kesan dari apa yang dia buat.
Keep temper out of your discplinary attempt

Scold or punish WITHOUT temper as a last resort.

Sorang budak tak sengaja jatuhkan mangkuk porcelain yang mahal, pecah seribu, dan ibunya yang terkejut dan kecewa menahan dirinya dari menjerit marah. Sebaliknya dia dengan tenangnya beritahu anaknya yang dalam ketakutan tu, dia sekarang perlu tahu dan belajar dari kesalahan. Dia ajar anaknya guna kertas pasir dan tumpulkan bahagian tajam dan gamkan semula. Bila dah siap mak dia beritahu walaupun dah tak boleh guna tapi letak dalam bilik kamu sebagai ingatan atas kecuaian kamu yang menyebabkan mangkuk yang cantik dan mahal ni pecah."

Assign some suitable responsibilities to your child

Setiap anak ada tugas masing-masing dalam rumah. Kat dalam rumah beri kerja ikut umur dan minat. Contoh ada anak suka memasak beri tugas bantu ibu masak, anak yang suka baiki2, tugas dia baiki dan buat kerja maintenance rumah dan yang muda-muda buat kerja-kerja mudah, set up meja makan, buat air etc.
Avoid head-on clashes (yang ni dalam buku dia tujukan kepada remaja tapi rasanya boleh apply untuk umur Haris)

Bila apa yang dia buat tu membuatkan kita marah, atau kedua-dua kita dan anak kita tengah emotionally high (yang mana dia akan sangat defensive), kita yang break off dulu. "I'll talk to you later, I have a meeting now." Tak ada guna juga untuk yakinkan dia sebab masa tu dia takkan dengar juga cakap kita.

Do the unexcpected & win over your teenager without suppresion

Bila dia buat sesuatu yang dia expect kita akan marah, kita humor instead. This will leave them startled and eventually slowly they improve or reflect on it. Contoh yang dia bagi anak balik lewat malam, dia tunggu, anak dia expect dia marah tapi instead dia ajak minum coffee dan dia dapat rasa anak dia dah tense up dan bersedia untuk menjawab (you know macam kita dulu-dulu juga. uhuk.) Ayah dia buat cam takde pape berlaku dan masuk bilik masing-masing. Anak dia kat rumah selama 2 hari lepas tu, dan hari ketiga bila dah guard down barulah ayah dia slowly beritahu dia punya concern. Yang dia risau safety anak dia keluar malam-malam sampai dia tak boleh tidur. Anak dia minta maaf dan walaupun dah balik kolej, anak dia tak lagi balik tengah-tengah malam.