Lepas beberapa tahun cuba bermontessori, dengan jumpanya buku ni, barulah dapat banyaaak pencerahan.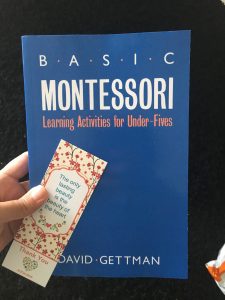 Saya beli di Bookurve harga RM68.
Untuk tulisan Dr. Montessori sendiri, boleh baca The Absorbent Mind dan The Secret of Childhood. Amek masa juga untuk saya yang marhaen ini untuk hadam tulisan Dr. Montessori.
Untuk spesifik kepada nak memontessorikan rumah, boleh baca How to Raise an Amazing Child by Tim Seldin & Montessori Play & Learn by Lesley Britton.
Ingat lagi masa mula-mula nak mendalami lagi kaedah Montessori ni, satu website ni rekemen buku The Montessori Method. Makanya belilah buku ni di Kinokuniya. Tapi ugh takleh nak habiskan, bahasa dia… susah nak hadam. Hahaha. Untuk sesetengah orang mungkin boleh, untuk saya tidak. Lepas tu dapat pinjam buku The Secret of Childhood di National Library dan yang ini macam seronok sikit baca. Baca ni dah boleh grasp the whole theory of Montessori Method.