Touch Boards & Touch Tablets
Touch boards dan touch tablets adalah untuk latihan refine deria sentuhan.
Touch boards yang sebenar macam ni.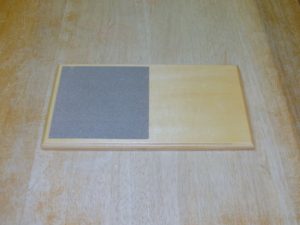 Gambar ni diambil di website Montessori Album.
Satu permukaan kasar (sandpaper) dan satu permukaan licin. Kanak-kanak di latih untuk membezakan kasar dan licin (rough and smooth). Sambil tu mereka juga belajar bahasa, kasar dan licin. Saya DIY je, guna mounting board dan kertas pasir untuk permukaan kasar. Satu lagi guna kertas untuk print gambar untuk permukaan licin.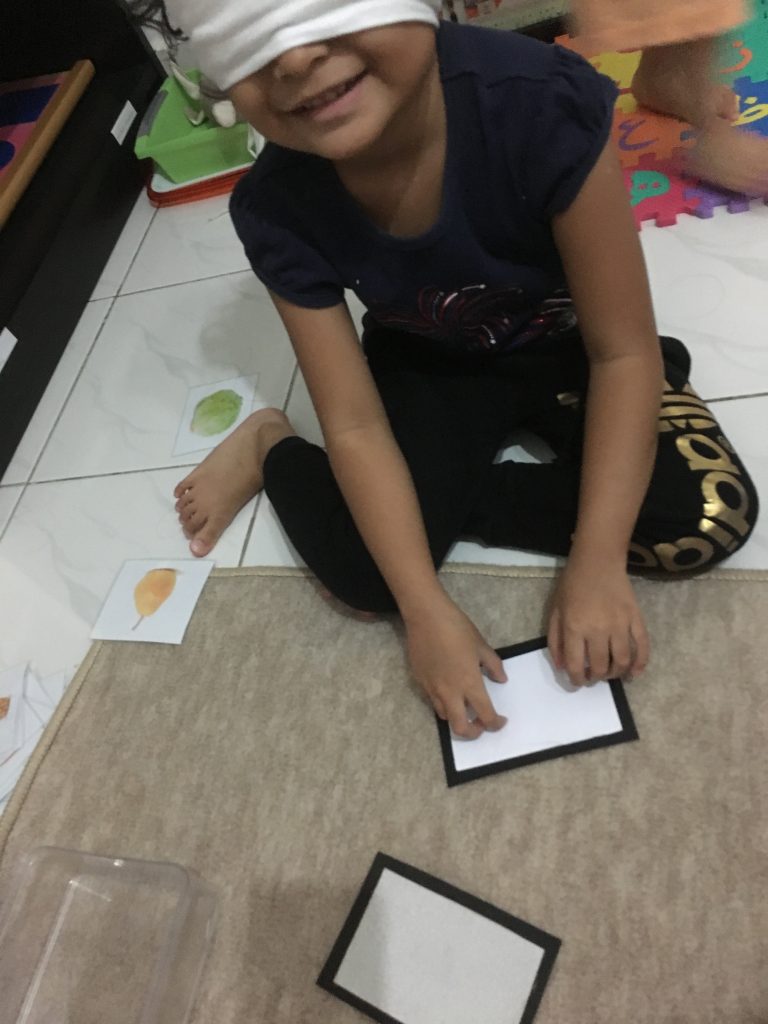 Cara nak persembahkan boleh rujuk sini atau sini.
Kalau ikut album, sepatutnya ada lagi satu atau dua seperti gambar di bawah, strip kasar dan licin, dan graded touch.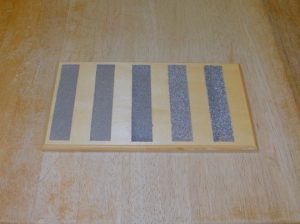 Tapi kami skip yang ni dan terus ke Touch Tablets. Sebab saya fikir macam fungsinya lebih kurang.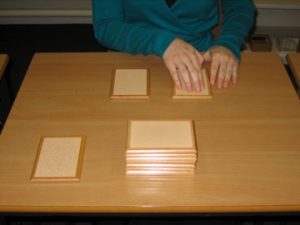 Gambar dari Montessori Primary Guide.
Aktiviti ni anak-anak perlu padankan tekstur gred kertas pasir yang sama. Jadi untuk setiap satu gred tu ada 2 tablet. Cara persembahan boleh rujuk di sini dan sini. Yang ni pun kami DIY juga. Saya beli 5 gred berbeza. Dari yang betul-betul kasar jarak dia jauh untuk anak-anak mudah rasa perbezaan tekstur (ingat setiap aktiviti adalah untuk anak mudah berjaya buat) dan untuk kedua terakhir tu je saya beli yang grednya dekat, bila sentuh lebih kurang sama. Dan note juga bila anak-anak salah pairing, jangan betulkan dan jangan cakap apa-apa. They would want to this again and again and perfecting their senses eventually.