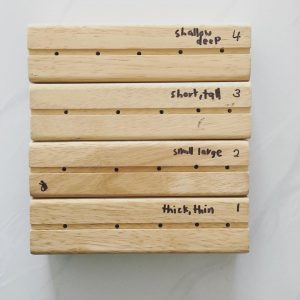 Cylinder block bukan sahaja untuk visual discrimination tapi juga untuk language. Semua cylinders graded dari smallest to largest. 3 dimensi, tebal, lebar, tinggi. Blok 1, ketinggian sama, diameter dari thin to thick. Blok 2, ketinggian dari short to tall, diameter small to largest, berbeza 3 dimensi, thus smallest to largest. Blok 3, small to large tapi ketinggian berkurang dari tall to short. Blok 4, ketinggian short to tall, diameter sama. Pertama kali present satu per satu dahulu. Dah present semua, barulah mana-mana dua blok—> mana-mana tiga blok —> keempat-empat blok. Language untuk ni mula selepas language untuk pink tower, brown stair, red rods diberi). Since this is for visual discrimination, jangan gerakkan cylinder ke dalam lubang-lubang untuk cari match. Match visually. Guna jari masukkan ke dalam lubang, pusing rasa kedalaman dan diameter dan lakukan yang sama untuk cylinder. Ada video di youtube yang tunjukkan ni. Honestly I had presented wrongly before and too early. Nak baiki sekarang memang susahlah. Sebab tu bila baca-baca, sorokkan ni dulu dan tunggu waktu sesuai. Keluarkan balik dan cuba semula masih lagi mencabar. 
? i think one of the challenges to do montessori lessons at home is to get their attention to our presentation. 
?
?Terpaksa tulis di belakang blok sequence dan language untuk ni sebab belum hadam. 
?