DIY Geometric Cabinet versi nak cepat
Geometric Cabinet adalah salah satu montessori apparatus yang mahal. Untuk homeschool setting, yang homeschool 3 orang anak je, cam tak berbaloi nak beli. Masa Hana dulu memang tak buat aktiviti ni dan bergantung pada bentuk Metal Inset sahaja. Kali ni disebabkan mula dengan Aqeel.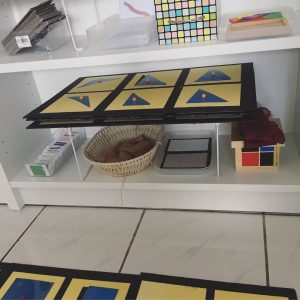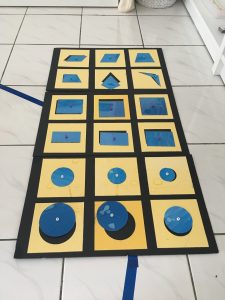 Template ni boleh download di sini.
Banyak contoh-contoh untuk DIY Geometric Cabinet boleh tengok di sini dan sini (website bahasa Italy, boleh google translate).
Atau, kalau beli juga untuk homeschool yang hanya untuk digunakan dengan beberapa anak sahaja, hehe, boleh baca sini: In Order To Make You Feel Better About That Geometric Cabinet Purchase di What Did We Do All Day.
Geometric Cabinet boleh guna untuk Primary (3-6) sehingga Elementary (6-12) (tak pasti will it be used until Upper Elementary) tapi yang pastinya bila buat ni, Aqeel dan Hana Primary, dan Haris Elementary boleh benefit dari bahan ni.
Menarik sebab untuk ketiga-tiga anak ni presentation dan cara guna berbeza.
Untuk Aqeel hanya bagi sensorial sense sahaja dulu. Dia hanya trace, sense bentuk tu dan match. Cara boleh rujuk sini.  Untuk Hana, beri nama shapes-shapes di Geometry Cabinet dan untuk Haris, lagi mendalam, nama, maksud nama, dan angles, permulaan topik Geometry. Boleh rujuk sini.