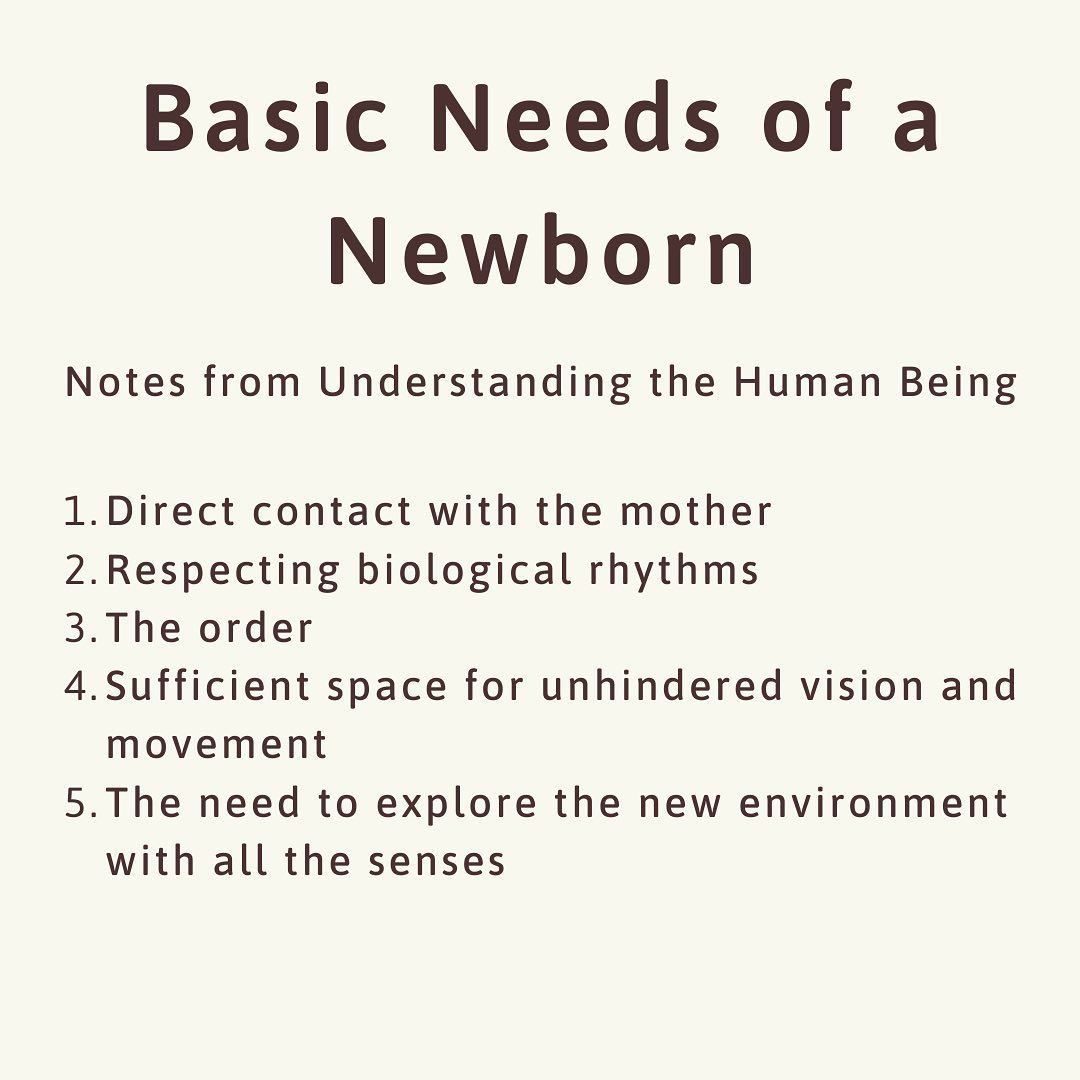 Nota Bacaan: Understanding the Human Being
Basic Needs of a Newborn
Direct contact with the mother:
Penting sebab sepanjang di dalam perut ibu, baby banyak dengar suara ibu. jadi bila lahir familiar dengan suara dan reestablish semula points of reference untuk bayi. Penting juga untuk establish preferential relationship dengan ibu. Untuk receive special food; breastmilk. Untuk terima form of communication untuk mereka bina.
2. Respecting biological rhythm
Bayi perlu minum susu bila dia lapar dan tidur bila dia perlukannya. Biasa di hospital masanya dah difixkan. Ada masa-masa tertentu nurse akan ambil bangunkan bayi yang tengah tidur bawa ke ibu untuk disusukan. These needs unik untuk setiap bayi. Jadi perbuatan tu adalah 'violent interference' untuk bayi sebab ganggu rhythmnya, bayi tak boleh nak govern sleep rhythmnya sendiri dan susah nak synckan dengan keperluan dalamnnya -> which might caused bayi susah nak adjust solar rhythm (tidur siang jaga malam perhaps? sebab asyik ganggu waktu tidurnya?)
3. The order
Order in which things are done. Bayi perlu establish points of reference untuk kehidupan di dunia baru ni. Contoh yang diberikan dalam buku ni, penting untuk tentukan siap-siap tempat mana nak berikan susu, tempat mana tukar-tukar lampin atau baju etc. Aktiviti ni berulang-ulang dan jadi points of reference untuk bayi develop relationship dan familiar dengan evironment.
4. Sufficient space for unhindered vision and movement
Kebanyakan tempat tidur bayi adalah opposite dengan di atas. Tempat tidur kecil, tak boleh bergerak dan dalam crib contohnya terhalang dengan rails. Bayi adalah seorang manusia yang sangat attentive dan capable of concentration sebenarnya. Bayi perlu praktis fokuskan matanya pada objek-objek dalam bilik tanpa gangguan rails. Dalam perut kita, dia bebas bergerak. Bila lahir pun dia bergerak cuma perlahan. Biasanya kita berikan tempat tidur yang kecil, restricted, baju pun restricted certain movements. Dia nak gerak macam dia biasa gerak (dalam perut) tapi tak boleh. Jadi motor skillnya hilang. Ini sebab kita sendiri fikir yang baby ni tak boleh gerak.
5. The need to explore the new environment with all the senses
Bayi, mereka aktif dan alert. Mereka tak perlukan banyak tidur seperti yang kita fikir. Tapi kebanyakan mereka sensory deprive menyebabkan mereka boring, unhappy dan nangis lah untuk attention. Respon kita biasanya kalau mereka nangis suap something dalam mulut sebab kita fikir tu yang diorang nak! Perasan tak kepala bayi besar? 1/3 dari saiz badan. Saiz otak mereka besar dan mereka sangat interested untuk dengar human voices, lihat sekeliling, pokok, bunga jadi bayangkan yang mereka tengok hanyalah siling putih, cahaya tak cukup. Jadi tiada dalam persekitaran mereka tu yang boleh satisfy interest dan desire for knowledge.
Kesimpulannya, senang je untuk provide ni semua. Tak perlu equipment mahal-mahal. Hanyalah "prepared person" yang memahami bayi itu siapa.