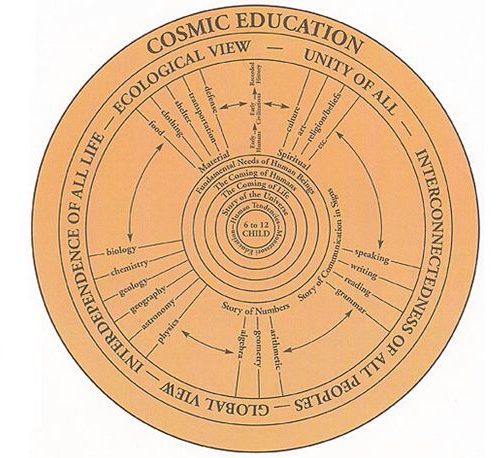 Apa Itu Montessori Five Great Lessons
Montessori Five Great Lessons adalah 5 buah cerita 'great' yang diceritakan pada awal tahun sekolah di sekolah Elementary (6-12 tahun). Tujuan cerita-cerita ini diceritakan adalah untuk mengusik imaginasi kanak-kanak dan memberikan rasa ingin tahu kepada kanak-kanak di second plane, bersesuaian dengan ciri-ciri mereka; pemikiran mereka yang ke arah abstrak dan perasaan ingin tahu mereka tentang dunia di luar sana.
Cerita-cerita ini memberikan idea bahawasanya setiap yang tercipta adalah saling berkait dan bergantung antara satu sama lain. Dari ciptaan alam semesta, Bumi, haiwan, tumbuhan, manusia dan lain-lain ciptaan Allah. Ia memberikan idea dan buat kanak-kanak sedar yang setiap perkara yang Allah cipta ada tujuan masing-masing.
5 buah cerita tersebut adalah:
Great Lesson 1: Pembentukan Alam / The Formation of the Universe

Cerita tentang bagaimana dunia, bintang, matahari, bulan, darat dan air terjadi dan bagaimna semuanya terjadi mengikut perintah Allah.
Membuka eksplorasi tentang astronomi; bintang-bintang, galaksi, planet-planet, sistem suria, pembentukan Bumi, etc.

Great Lesson 2: Lahirnya Kehidupan / The Coming of Life

Cerita bagaimana kehidupan bermulanya dari air, dinosaurs, haiwan-haiwan dan tumbuh-tumbuhan.
Membuka eksplorasi tentang pembentukan Bumi (Geologi, Geografi), Haiwan (Zoology), Tumbuhan (Botany), etc.

Great Lesson 3: Lahirnya Manusia / The Coming of Man
Great Lesson 4: Cerita tentang Penulisan / The Story of Writing

Keperluan manusia terhadap berkomunikasi dan bagaimana bermulanya dengan lakaran di tanah, hieroglyphics, huruf (arabic, cina).

Great Lesson 5: Cerita tentang Nombor / The Story of Number

Mulanya dari tanda-tanda mudah, tally dengan tulang dan ranting, nombor Roman hingga nombor sekarang.
PS: Untuk Haris dah cerita sampai Great Lesson 3 tapi tak follow up. Great Lesson 1 cerita follow up, Great Lesson 2 cerita dan follow (sikit). Hana belum mula!
Trivia:
Cerita-cerita ini didevelop oleh anak Maria Montessori, Mario Montessori tapi berdasarkan idea dari ibunya. Terlahirnya great lessons ini adalah masa mereka berdua berada di satu hill di India pada perang dunia ke-2.
Cerita asal adalah versi agama Christian, yang mana jika kita google First Great Lesson akan keluar nama God with No Hands. Kita sebagai agama Islam tak guna yang ini.
Kemudian untuk sesuaikan dengan pelbagai budaya dan bangsa di dalam kelas montessori, versi Saintifik dikenalkan. Purely ikut research barat.
Untuk versi Islam tiada di luar sana, jadi ciptalah sendiri. Boleh baca pembentukan alam semesta mengikut Islam.
I found the image from Pinterest. I can't find the original source to credit. Please contact me if you know or if it's yours so I can properly credit or to take it down.