(Hana's 4y 9m when I first introduced Smelling Bottles to her.)
Smelling bottle adalah salah satu apparatus yang tak perlu beli. Yang ni sangat mudah untuk buat sendiri. Saya beli salt shakers (paling digalakkan beli yang boleh ditutup-fliptop) di kedai MrDIY. Lebih kurang RM1 satu botol dan saya beli 8 botol, untuk 4 bau yang berbeza, setiap satu bau, dua botol.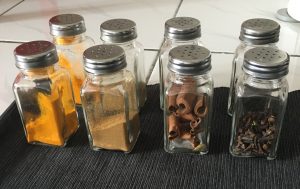 Bahan-bahan untuk bau pun mudah. Hanya ambil spices, herbs, buah-buah yang ada di dapur. Bau yang memang anak kita hidu hari-hari. Boleh juga ambil dari ubat-ubatan contoh vics, minyak urut, juga bauan pewangi, ambil dari essential oils seperti lavender, rose, jasmine, etc) (*bila guna essential hati-hati pilih ditakuti ada kesan alergik). Dan kalau guna serbuk please bila hidu tu jauhkan sikit supaya serbuk-serbuk tu tak masuk dalam hidung. Masa demo tu pastikan sniff dengan perlahan and with distance and keep reminding them so.
Tujuan aktiviti ni adalah untuk bantu membangkitkan dan memperhalusi deria olfaktori anak dan untuk bantu anak sedar ada banyak dan macam-macam bau dan wangian di sekelliling mereka!
Baca sini untuk cara kenalkan aktiviti ni.
Kalau ikut sebetulnya Smelling Bottle Montessori tak nampak isi dalam. Bagi yang guna container yang boleh nampak, boleh blindfold anak-anak dan minta mereka cari bau yang sama. Bila mereka buka blindfold tu boleh tengok sendiri betul atau salah mereka match! Masa Hana buat ni masa first time, semua salah match. Samalah dengan Haris. Especially bau jintan dan kunyit! Bila buat beberapa kali baru boleh betul-betul dapat bezakan warna kedua tu dam match dengan betul semuanya.
Footnote dari Montessori Commons:

Substances should be natural and non-toxic
Encourage the child to smell flowers, herbs, leaves, bark in the garden, food and drink in the kitchen and recognise other scents
Change the material regally to maintain interest and give a wider variety.  Use different bottles or clean using bicarbonate of soda or similar to neutralise smell
Avoid exchanging the lids as the scents will become contaminated
Indirectly show that you are limiting the amount of scent you inhale by keeping the bottle at a distance
Suggest that the child closes her eyes or uses a blind fold to bring further focus
Untuk toddlers boleh ikut cara di Mama's Happy Hive. Just introduce them to different smells.
Latihan lain yang disarankan dalam buku Gettman:
Beri 3 period lesson kepada nama bau-bau yang digunakan.
Letak satu set smelling bottles di satu tempat dan satu lagi di tempat (jarak jauh), minta dia hidu dan cari bau yang sama pada set satu lagi, bring back, verify and put back. Continue as long as the child enjoys it.
Bring the smelling bottles (hmm mungkin pasar if spices) dan minta cari bau yang seakan sama.
Outdoor walk dan explore bau-bauan.
More fun ideas: