Berjalan atas garisan adalah salah satu aktiviti kemahiran kendiri Montessori (Practical Life).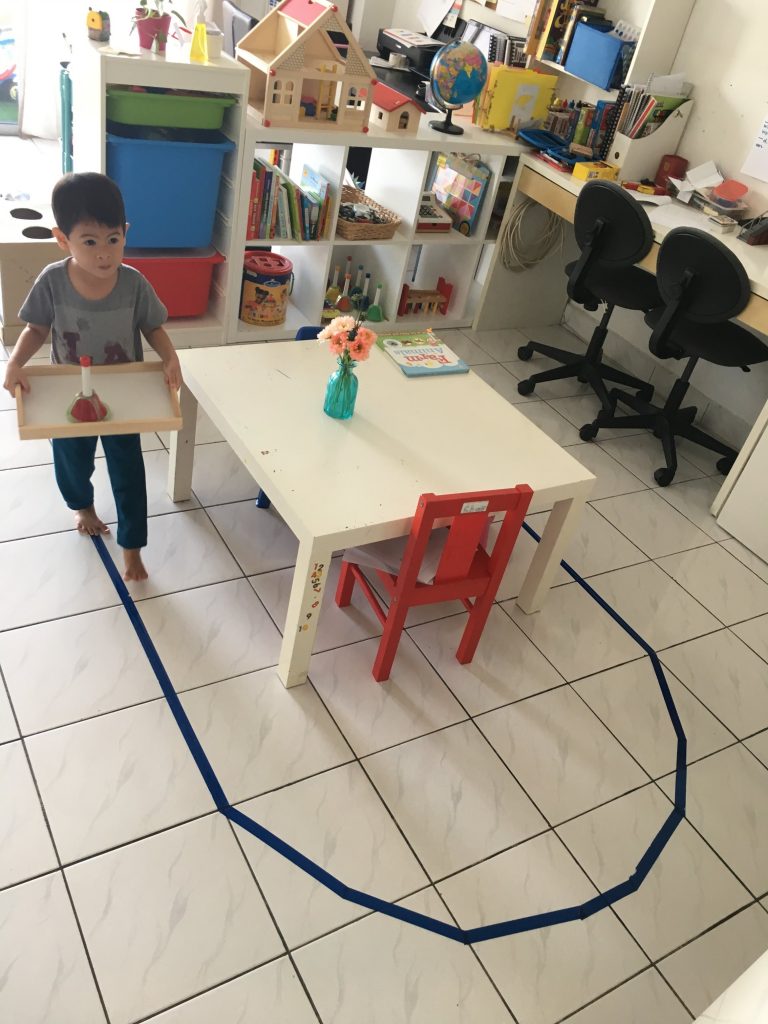 Masa pemerhartian Dr. Montessori, beliau perasan yang kanak-kanak ni suka berjalan atas kayu, atas curb jalan tu. Kalau kita pun perasan anak-anak kita suka naik curb jalan, ikut garisan cat di jalan dan seumpanya. Jadi Dr Montessori perasan yang kanak-kanak ni tengah dalam nak sempurnakan sense of balance mereka. Mereka dalam dua sensitive period untuk sempurnakan pergerakan mereka iaitu, masa umur 2-4.5 tahun, kanak-kanak sensitive period untuk koordinasi pergerakan secara sedar (conscious) dan refinement of the senses (2-4 tahun).
Jadi disebabkan sebab-sebab di atas, Dr Montessori cipta aktiviti ni dalam kelasnya untukk bantu kanak-kanak melatih koordinasi, balance, kawal pergerakan otot dan body awareness. (sini)
Nak cari video kanak-kanak berjalan atas garisan, tapi tak jumpa yang ok. Setakat ni yang ni yang paling tepat dengan cara yang ditulis dalam album.
Bahan yang diperlukan:
Description dari Montessori Primary Guide:
2 garisan lurus dan 2 sisi yang sedikit melengkung; bentuk ellipse.  Lebar perlu sedikit lebar dari saiz lebar kasut/kaki kanak-kanak.
Di rumah ni pada asalnya buat one straight line ja. Tengok banyak gambar di pinterest atau blog lain yang buat gitu. Bila baca dengan lebih dalam mengenai aktiviti, tukar line kepada ellipse.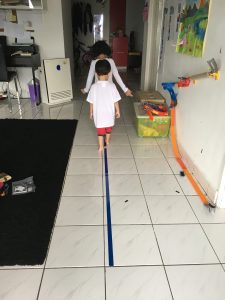 September 2017 punya garisan.
Cara-cara nak kenalkan ikut Montessori Primary Guide juga. Tapi di bawah dah diolah ikut Baytzuhr's style.
Peringkat pertama:
Demo jalan atas garisan. Ajak jalan sama-sama. Setiap hari, agak-agak cam kita rasa kita dapat ambil perhatian, mula jalan atas garisan. Walaupun begitu, by now, Aqeel hanya akan jalan bila mama dia jalan dan ajak. Dan hanya sampai satu kali pusing. I also added him to bring tray while walking on the line.
Peringkat kedua:
Upkan challenge, dengan tunjuk cara jalan macam ni: letakkan tumit dahulu kemudian jari-jari kaki disusuli dengan jari-jari kaki sebelah lagi sentuh tumit belakang kaki yang depan. Macam dalam video di atas. Jalan dengan perlahan. Boleh juga pasang musik yang tenang dan slow untuk accompany aktiviti ni.
Kalau ada adik beradik lain, tekankan jarak yang sesuai antara diri masing-masing.
Peringkat ketiga:
Extensions! Yang ni menarik (tapi masa tengah taip ni kami belum cuba lagi dan akan cuba inshaAllah) tapi cuba hanya apabila dah mahir dengan peringkat kedua.
A. Berjalan atas garisan bawa bendera atau loceng.
B. Berjalan atas garisan dengan bawa segelas air yang penuh!
C. Berjalan atas garisan dengan bawa 2 objek berlainan. (gelas yang airnya penuh dan loceng)
D. Berjalan atas garisan dengan apa-apa atas kepala. (bean bag atau bakul) (kedua tangan bawa 2objek berlainan tadi)