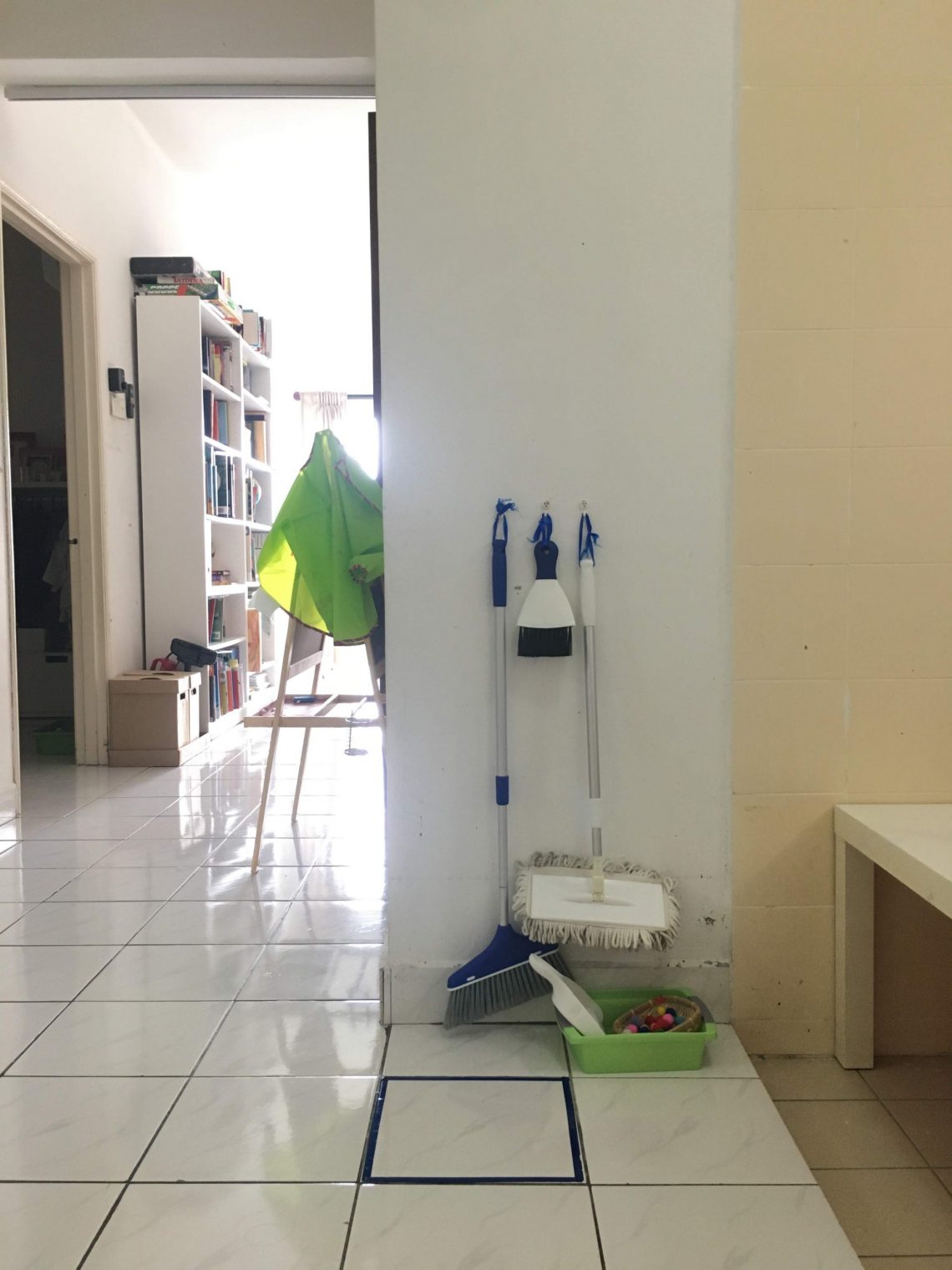 3 tahun ke atas, boleh kenalkan penyapu kecil saiz kanak-kanak.
Buatkan square menggunakan tape di lantai. Saya buat berdekatan dengan cleaning supplies area.
Peralatan:
Penyapu kecil saiz kanak-kanak
Bahan-bahan untuk disapu (cebisan kertas, seeds etc)
Dust pan
Square taped di lantai
Taburkan bahan-bahan untuk di sapu di sekeliling square tape.
Ambil penyapu.
Emphasis cara pegang. Satu tangan di atas, satu tangan di bawah.
Sapu semua masuk ke dalam tape.
Check sekeliling jika ada yang tak tersapu. Jika ada, ulang seperti di atas.
Letak semula penyapu.
Ambil brush dan dustpan.
Duduk dan letak dustpan di hujung tape. Sapu semua bahan ke dalam dustpan.
Check jika ada yang tertinggal.
Letakkan brush di hujung dustpan supaya bila bangun dan bergerak, bahan tidak jatuh.
Bangun dan berjalan ke tong sampah.
Tuang bahan dalam dustpan ke dalam tong sampah. (Sapu dengan berus untuk sapu semua yang tertinggal.)
Letakkan semula peralatan di tempatnya.
Extensions:
Sapu rumah, sapu luar rumah.
Nota:
Progress untuk Aqeel menyapu guna penyapu. Mula-mula saya letak pompom sebagai untuk dia sapu.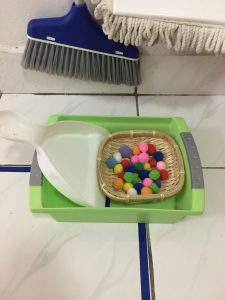 Bila dia OK, saya tukar kepada cebisan kertas.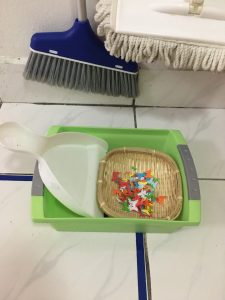 Sekarang Aqeel dah guna penyapu dalam harian dan in real situation. Contoh bila dia makan biskut ada cebisan-cebisan biskut tumpah dia ambil dan sapu. Banyak masanya dia tak sedar dan saya point out, "Aqeel, banyaknya biskut tumpah." "Oh, ya! Aqeel sapu!". Untuk pilih aktiviti kita beri mereka buat aktiviti yang kita tahu mereka boleh buat with a littttttttttle bit of challenge. Dalam kes ni, Aqeel dah biasa sapu di tray, jadi saya kenalkan penyapu. Penyapu dia belum guna. Saya present macamana guna penyapu (emphasise kedudukan tangan bila pegang penyapu). Dia boleh buat dan dia rasa perasaan yang dia boleh buat! That alone encourage himself to do more. Saya letak pula cebisan kertas tu. Dia cuba nak buat. Dan boleh juga! Kemudian, saya alihkan bahan-bahan untuk dia praktis dan prompt untuk real situation.