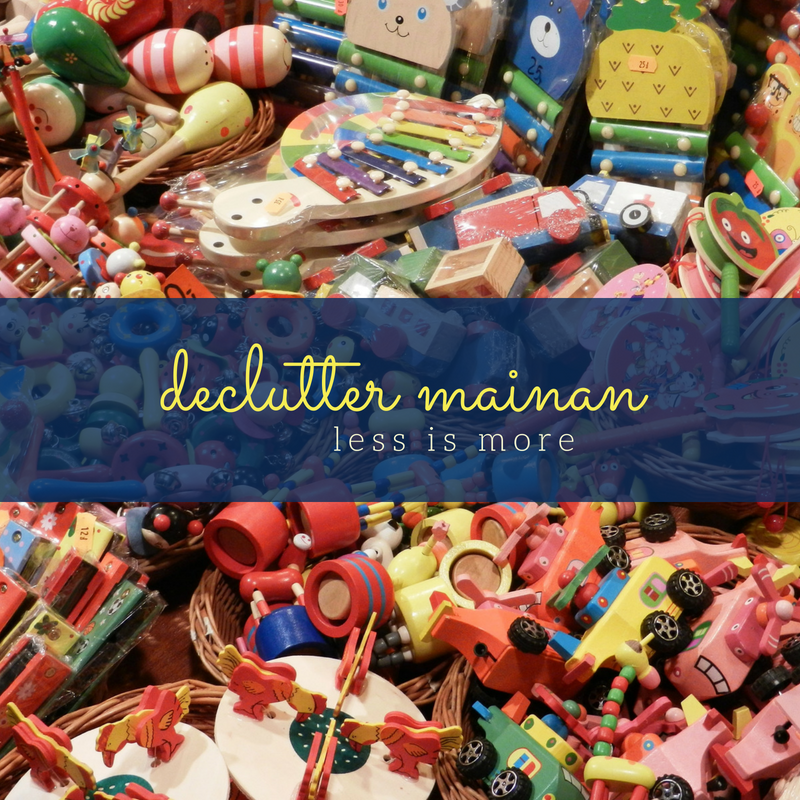 Beberapa hari lepas, kita berbincang tentang topik mainan di IG. Bermula dari quote Montessori:
"Our children revealed to us a level of mind yet unexplored, and their activities manifested tendencies never dealt with by psychologists or educators. For instance, the children were never attracted to objects such as toys, which were supposed to please them, nor were they interested in fairy tales. Instead, they all sought to free themselves from adults and to do everything by themselves, manifesting clearly the desire not to be helped unless such help was absolutely necessary. They were tranquil, absorbed and intensely interested in their work, achieving an amazing level of serenity."

Book: The child in the Family
"Although the children in our first school could play with some really splendid toys, none cared to do so. This surprised me so much that I decided to help them play with their toys, showing them how to handle the tiny dishes, lighting the fire in the doll's kitchen and placing near it a pretty doll. The children were momentarily interested but then went off on their own. Since they never freely chose these toys, I realized that in the life of a child, play is perhaps something of little importance which he undertakes for the lack of something better to do. A child feels that he has something of greater moment to do than to be engaged in such trivial occupations. He regards play as we would regard a game of chess or bridge. These are pleasant occupations for hours of leisure, but they would become painful if we were obliged to pursue them at great length. When we have some important business to do, bridge is forgotten. And since a child always has some important thing at hand, he is not particularly interested in playing."

T
Kami dulu masa Haris dulu, memang ada tempat khas untuk mainan dan guna cara toybox. Masa kemas semua mainan masuk ha dalam toybox tu senang. Tapi sejak cuba guna kaedah Montessori di rumah, pelan-pelan ­memang cara handle, simpan, susun mainan pun berubah. Mula-mula susun mainan ikut kategori. Masa declutter tu barulah perasan sebenarnya, ada banyak mainan yang rosak, yang hilang parts, dan yang memang "Eh, ada eh mainan ni? Macam tak pernah main je."
Tapi masa mula-mula tu perasaan sayang tu masih ada. Jadi banyak yang masih simpan dari buang atau giveaway (atau jual). Keadaan dalam rumah mula berubah sikit-sikit, ada shelf untuk display mainan dan aktiviti-aktiviti yang sesuai dengan mereka, dan lebih autonomi diberikan pada mereka pada practical life di rumah. Lama-lama toys dah kurang sepah, toys memang dilupakan. Adalah bila go through mainan-mainan tu diorang nampak 'Oh, mainan ni!" Diorang akan ambil main jap pastu lamaaa tak sentuh-sentuh dah. Declutter lagi sekali dan kali ni memang nekad mana toys yang memang diorang kurang minat, yang takde purpose memang buang, recycle, jual atau donate.
Masa declutter tu boleh cuba tanya soalan-soalan ni untuk bantu:
Rosak atau tak cukup bahagian?
Ada mainan yang sama dengan yang ni?
Mainan ni sesuai ke dengan umur anak-anak?
Dari sudut minda, apa yang anak-anak boleh belajar dari mainan ni?
Dari sudut pergerakan, dapat perhalusi penggunaan tangan dan jari dan bantu dalam kemahiran motor kasar atau motor halus?
Adakah mainan ni menganggu atau membantu anak-anak dalam konsentrasi mereka?
Adakah mainan ni terlebih rangsang (over stimulate) atau menjengkelkan (annoying)?

Adakah ianya mainan yang benarkan imaginative play atau tak?

Adakah mainan ni galakkan main secara kasar?
Anak-anak akan perasan tak kalau mainan ni takde?
Yang mana tak sure cam sayang-sayang nak lepaskan, sediakan kotak khas untuk tu dan simpan dalam stor beberapa minggu. You'll get back to this.
Yang mana yang nak, organise kemudian simpan dalam storage ikut kategori. Dapatkan shelf, display beberapa toys dan boleh rotate dengan yang simpan tadi selang beberapa minggu (2-3 weeks). Tengok ikut minat mereka.