Dalam Montessori Scope and Sequence yang saya rujuk di Montessori Compass, aktiviti Story Sequence ni di bawah Language Arts di bawah kategori Concept Development. Tujuannya adalah untuk bantu bina kemahiran berfikir untuk pemahaman membaca. Banyak lagi kelebihannya sebenarnya, bina pemikiran logik, tambah vocabulary (masa Hana dah mula cerita semula bila dia struggle cari perkataan yang sesuai, saya beritahu dan dia cerita semula) dan menggalakkan percakapan dari storytelling dan penghuraian (elaboration) dan juga boleh jadi topik perbualan! Ia juga secara tak langsung bantu membaca dari kiri ke kanan (sebab kita susun kad dari kiri ke kanan, ikut progress first, next, last) dan secara tak langsung faham setiapnya ada permulaan, tengah, dan pengakhiran. Ia juga membina kebolehan untuk memerhati, ingat semula dan susunatur sesuatu perkara dan ini adalah merupakan kemahiran hidup yang penting. Ha, dari aktiviti simple ni banyak kelebihan dia.
https://youtu.be/Aj6quN-Oec4
Banyak yang saya baca, aktiviti ini jika dalam kelas Montessori ia akan mula dengan aktiviti harian kanak-kanak. Guide akan tanya kanak-kanak mula-mula buat apa (susun kasut, letak bag, circle time dll). Ini langkah awal sequencing! Di rumah pun boleh begitu juga! Secara informal bercakap-cakap, mula-mula Hana bangun, Hana gosok gigi, mandi kemudian Hana buat apa? Dengar dia cerita, bincang-bincang. Secara tak sedar kita dah buat. Jadi seterusnya, boleh ambil gambar kegiatan anak-anak seharian, dan boleh letak di shelf kemudian minta susun.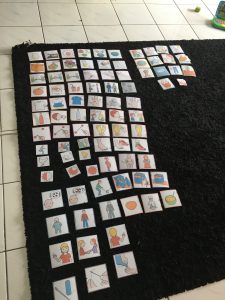 Kami guna printables dari Montessori EtCie. BANYAK ada dan 3-cerita kad.
Jadi untuk aktiviti ini perlu satu set kad yang kita akan susun untuk membentuk satu cerita. Letak secara random dalam bekas dan masa mula-mula persembahkan aktiviti ni, kita nampak macam tengah fikir tentang setiap kad tu dan mana nak letak setiap kad tu. Bila dah buat keputusan yang mana mula, tengah dan akhir, kita akan cerita cerita itu ikut susunan, mula-mula, kemudian, akhirnya (begin/first, next, last). Kita campur balik kad-kad tu dan minta anak-anak susun dan mereka sendiri cerita. Langkah seterusnya untuk lebih maju dalam aktiviti, tingkatkan kesukaran dengan campur kad dari dua cerita berbeza. Dan boleh bermula dari 3 kad cerita kepada 4 kad cerita kemudian 6 kad cerita.
Untuk lebih jelas boleh lihat di Montessori Album & Carrots are Orange  cara untuk sampaikan.
Contoh sequence yang boleh guna untuk aktiviti:
Kegiatan harian
Susunan sesuatu aktiviti contoh cara pakai tali pinggang
Cerita dari buku-buku cerita kegemaran anak-anak
Cerita dari kisah-kisah al-Quran (contoh disini yang guna kisah dari Bible) *note to self utk buat sequence card kisah al-Quran
Dari lagu-lagu nursery
Kitaran hidup tumbuhan atau haiwan
Lain-lain aktiviti untuk pre-reading di Montessori Nature.
Printables
Story Sequence dari Montessori for Everyone
Sequencing Ideas and Worksheet by Learning Resources.
Banyak link untuk sumber-sumber kad di Talibiddeen Jr