Laminator & Laminating Pouch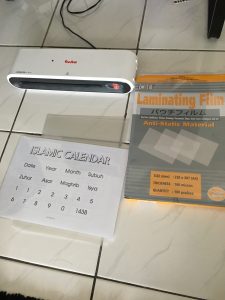 Rasanya salah satu bahan asas home educating adalah laminator. Kebanyak homeschoolers akan cari bahan-bahan percuma dalam internet, download, print dan laminate! Terutamanya macam baytzuhr sebab adopt kaedah Montessori, jadi banyak guna (untuk 3-part cards). Laminate akan membuatkan bahan tu tahan lama. Tapi bila terjumpa satu komen dari seorang ibu beberapa bulan lepas yang laminated paper macam kita selalu buat tu tidak environmental friendly (according to the recycle center person yang dia visit).  Maknanya ia dah jadi plastik susah lupus. Logiknya lah kan. Memang plastik.
Pros:
Jimat kos (kertas, ink) sebab boleh padam dan guna lagi
Tahan lama, tak mudah koyak.
Cons:
Not environmental-friendly.
*Kena buat kiraan kos penggunaan kertas tebal (cardstock) (agak mahal juga rasanya). Vs laminating pouch.
Anyway, brand laminator yang kami guna adalah Geha. Masa beli tahun 2014, harganya Rm114.00 + kos pos Rm8.00. Ini yang murah paling jumpa online (website, lelong, mudah, FB groups). Diluar pun dah survey di kedai stationeries, giant dan tesco semua rm140 ke atas. 2-3 minggu juga survey. Bila dah beli, 2-3 minggu kemudian kawan-kawan homeschoolers war-war Tesco buat promosi laminator rm100 kot lebih kurang. Wargh. Tapi memang puas hati. Tak pernah kecewakan. Dan dah genap 3 tahun guna.
Laminating pouch macam-maca cuba cari yang murah, dan buat masa sekarang stick dengan store ni sebab setakat ni dia yang paling murah. Untuk 100pcs Rm31.80 dan dia hantar terus ke rumah, despatch sendiri (area lembah klang).
Laminator di Lelong
Laminating Pouch di Lelong
(*bukan affiliate link)
2. Printer dan Ink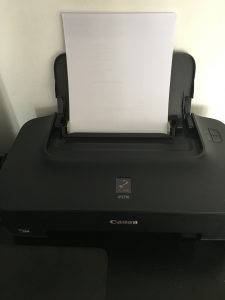 Kami guna Canon. Beli sebab paling murah masa beli tu. Lebih kurang masa beli laminator tu juga. Tapi sangat tak rekemen untuk homeschoolers sebab ink catridgenya mahal. ? Around Rm170 untuk hitam dan warna. I scoured around internet jumpalah yang jual used atau yang dah dimodified. Separuh dan masih mahal. Lebih kurang 2 bulan sekali beli. Tapi sekarang dah bertahun dan banyak yang dah boleh ulang guna, dah makin kurang printing. Is that a good thing? Tapi untuk yang tengah mencari saya recommend cari yang inknya boleh refill ikut warna. Warna merah habis, refill yang merah. Rasanya lebih ekonomikal. Printer macam tu mahal sikit. Tapi maintenance kurang. Sekarang yang dah habis merah je, tapi kena beli dan tukar catridge baru dah. Kan rugi? Ramai homeschoolers recommend Epson dan HP.