Classified Pictures / Classified Cards
Dalam buku Gettman, aktiviti pertama bahasa untuk anak-anak adalah classified pictures. Aktiviti ni boleh mula dari umur 2-2.5 tahun (Lynn Lawrence, Read & Write).
Untuk Aqeel (2thn) saya guna gambar objek-objek dalam rumah dan bahagian rumah, contoh gambar dapur, dan objek-objek di dapur. (Boleh guna gambar jalan, taman, pasaraya dll).
Untuk Hana boleh guna gambar-gambar yang Hana minat sekarang, contoh kenderaan, haiwan liar atau bunga-bunga. Yang ni boleh search dan download 3 part cards wild animals contohnya atau apa-apa topik semasa yang anak minat. Banyak ada. Website yang saya suka adalah The Helpful Garden.
Mula-mula print dan laminate dan cuba present. Sekali Aqeel datang nampak gambar yang dia familiar dan keliling rumah tunjuk-tunjuk. Oh, might as well buat matching activity.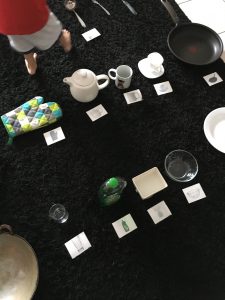 Bahan:
Sediakan beberapa set kad. Setiap set ada 10-20 kad. Setiap satunya ada gambar dan belakang kad ada simbol "bulat segiempat segitiga" sebagai label kad dalam kategori masing-masing.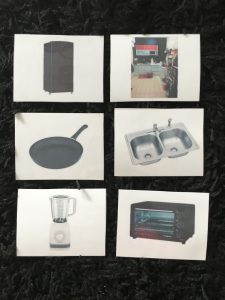 Satu kad adalah gambar penuh satu-satu pemandangan (bilik mandi), kategori (cth: haiwan liar), situasi (majlis perkahwinan) atau objek (contoh dapur, bilik tidur, bilik mandi, kenderaan) disusun atas sekali dan kad yang lain-lain adalah gambar objek-objek yang terdapat dalam pemandangan tu.
Scene ni dipilih adalah scene yang anak biasa tengok atau lalui atau minat. Objek-objek pula adalah objek yang common.
Boleh ambil gambar sendiri, gambar dari majalah-majalah, flyer, iklan dan lukisan sendiri yang berwarna.
Contoh untuk pakaian, ambil gambar wardrobe.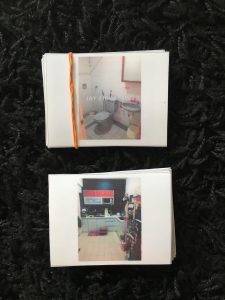 Presentation: (Untuk pertama kali)
Mula dengan gambar keseluruhan scene, tunjuk setiap kad dan bincang setiap satu kad. Pastikan guna nama yang betul. Kalau ada gambar yang anak tak kenal, namakan dan take note. Bila dah tengok semua, beritahu "Semua ni boleh dijumpai di dapur atau "Semua ni adalah haiwan liar."
Pada hari lain, buat 3 period lessons untuk objek-objek yang anak-anak tak tahu nama.
Scope of Sequence
[table id=1 /]
Untuk sesiapa yang nak buat classified cards sendiri boleh download template yang saya dah buat. Tukar gambar sahaja. Fail dalam bentuk power point.
Rujukan lain:
Montessori Pre-Reading Activities & Cards di Our Montessori Home
Montessori Toddler Classification Cards di The Kavanaugh Report
Reading Classification di Info Montessori