Kerusi dan Meja Kanak-Kanak
Dah lama terfikir nak beli meja dan kerusi untuk Aqeel. Yang ada sekarang pun OK, tapi rasa cam nak lagi satu meja dan kerusi khas untuk snacking. Ini belum ada. Bila Aqeel ambil sendiri makanan, dia hanya ada tiga pilihan untuk makan, di meja aktiviti (yang akan berserabut bercampur-campur dengan bahan aktiviti), meja makan yang tinggi, atau lantai. Jadi fikir memang perlu ada satu tempat khaslah untuk snacking atau makan, supaya I don't have to go around the house picking up crumbs and plates. Bila ada tempat khas, hopefully boleh pupuk makan dan kemas, please.
Kerusi yang dipilih mestilah sesuai dengan ketinggian anak-anak, yang mana bila mereka duduk, tapak kaki tu flat cecah lantai.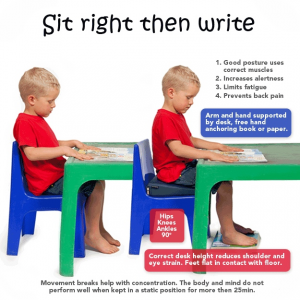 Gambar dari: Physifun (sila buka dan baca macam-macam tips lagi)
Sebab tu dalam kelas tulen Montessori, kita boleh jumpa kerusi yang pelbagai ketinggian sesuai untuk ketinggian bagi kanak-kanak 3-6 tahun!
Tips dari website Kidzoccupationaltherapy.com:
The first thing to look at when assessing a child's workspace is how they are sitting on their chair. Think 90-90-90. Ninety degrees of hip flexion, ninety degrees of knee flexion, and feet flat on floor with ankles at a ninety degree angle. The desk surface should be at about 2-3 inches above their elbow (measure when elbow is bent down along the side of their body) and their shoulders should be relaxed.
Di website Manine Montessori ada carta ketinggian meja dan kerusi yang disarankan untuk umur-umur tertentu.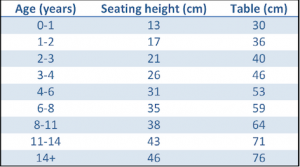 So now I need three different table and chairs! Tapi meja aktiviti ni kerusi dan meja dah sesuai dengan Hana. Cuma Haris dengan Aqeel jelah.
Setakat cari-cari meja kayu untuk saiz Aqeel dan warna natural wood tak mencapap hanya di IKEA.
Harga pun affordable RM79 with 2 chairs. Now, kalau tinggi boleh je gergaji dan potong. Sama macam kebanyakan ramai Montessori mom di luar sana buat.
Dan untuk Haris pun ada meja yang adjustable dari IKEA juga! Harga agak mahal, tapi boleh pakai lamalah juga kan sebab adjustable! Berkenan sangat.
Ataupun ada manufacturer dan brand di luar sana yang keluarkan adjustable meja dan kerusi. Boleh google children ergonomic table. Kebanyakannya saiz kanak-kanak sekolah rendah ke ataslah.