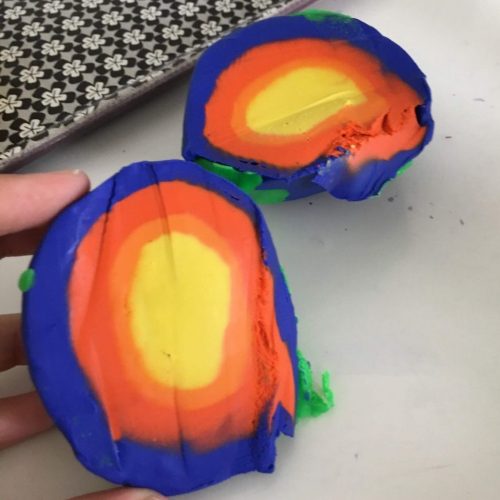 Hana tak berapa sihat beberapa hari ni. Demam dah kebah tapi masih lembik sebab kurang makan. Hari ni keluar bawa Hana je untuk makan apa yang dia nak makan, sambil tu singgah di kedai stationeries untuk beli plastisin nak buat lapisan bumi.
Balik rumah, Hana sambung tidur dan abang tolong mama buat lapisan bumi ikut arahan sini di Playdough to Plato. Tapi susunan warna tu ikut 3 part card yang di download secara free di The Helpful Garden.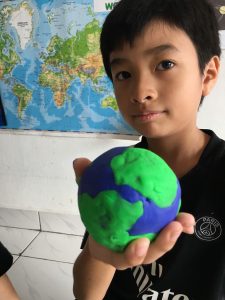 Diorang tak sabar dah ni nak potong tapi mama cakap tunggu Hana bangun dulu. Hana dah bangun kita mula! Mula-mula recap semula 1st great lesson dan buat eksperimen ketumpatan. Kali ni Aqeel yang macam teruja dengan eksperimen tu. (Takde gambar)
Lepas tu potong! Abang insists nak potong.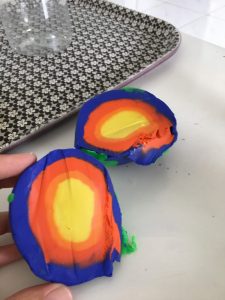 Masa potong dan buka tu abang dan Hana went Woahh! Excited. Aqeel pula bawa ke sana ke mari. Mama printkan gambar earth's layers dan tampal di dinding. (Google images)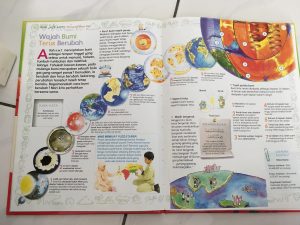 Buku yang diguna sebagai rujukan.
Abang tengok video ni sebelum tu masa mama tengah save-save rujukan dan idea-idea dan dia nak buat.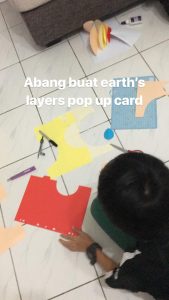 Info:
National Geography Kids
FREE 3 part cards yang lain
Montessori Soul
Montessori Mom
Free Montessori
Printable lain:
Homeschol Clip Art
Blogpost yang dirujuk:
The learning ark
Cosmic Montessori ada playdough mat printable untuk lapisan bumi
Video
https://www.youtube.com/watch?v=t6rpafKHbc4



https://www.youtube.com/watch?v=p0LCbEeJ00E
Lapisan Bumi di dalam al-Quran:
Artikel majalah al-Ustaz (daftar dahulu secara percuma untuk boleh baca)
Rujukan yang disebut dalam artikel tersebut: USGS