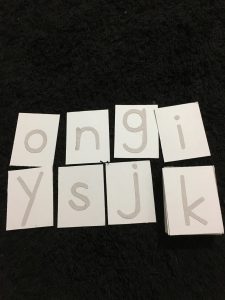 (Ni tak ikut warna yang digunakan dalam Montessori. Sepatutnya vowels-biru, consonant-merah, double letters-hijau)
Akhirnya, siap DIY sandpaper letters. Download dari sini. Tapi nak buat juga untuk double letters. Jadi rupanya boleh buat sendiri je. Download font Primer Print, di website dia juga ada atau boleh google juga. Buka Microsoft Windows dan taip saiz 500. Otherwise, untuk double letters, boleh download sini.
Seiring dengan stage 3 I-Spy/Sound Games, dah boleh kenalkan Sandpaper Letters. Tujuan sandpaper letters adalah untuk associate bunyi-bunyi yang mereka belajar dengan simbolnya. Kalau ikut Buku Gettman, double letters/phonogram dikenalkan bersama-sama dengan 26 huruf yang kita tahu. Phonogram di sini bermaksud, gabungan dua huruf yang mana bila bergabung menghasilkan bunyi yang lain, contoh, ch, sh. Jadi kalau ikut cara dalam buku Gettman kenalkan satu huruf vowel, satu huruf consonant dan satu double letters. Maximum 3 huruf setiap masa.
Presentation
Namakan Sandpaper Letters, tunjuk mana disimpan, pilih satu consonant, satu vowel dan satu double letters dengan bentuk yang beza. (cth i, f, oy). Letak di atas meja yang mana boleh duduk bersama-sama.
Sensitise jari kita dan jari kanak-kanak. (Setiap aktiviti Montessori yang menggunakan sentuhan perlu sensitise jari).
Tunjukkan macamana nak sentuh, "using a light continuous touch of the index and middle fingers of the dominant hand." seperti video di bawah:
Main aktiviti I Spy stage 3, guna satu bunyi dari salah satu 3 sandpapers.
"Would you like to see what sound () looks like?"
Letak sandpaper letter tu betul-betul depan kita dan kanak-kanak. Sebut bunyi huruf sambil trace huruf. Ulang.
Dan ulang untuk kedua-dua huruf kemudian buat 3-period lesson. Selepas kenalkan ketiga-tiga dan kanak-kanak ikut buat, ulang semula main I Spy stage 3 untuk ketiga-tiga bunyi.
Exercise 1) Kenalkan semua sandpaper letters sehingga kanak-kanak ingat semua.
Exercise 2) Main semua stage I Spy, tapi instead of just sebut bunyi huruf, tunjuk board. "I spy with my little eye something that begins with…" (tunjuk satu board).