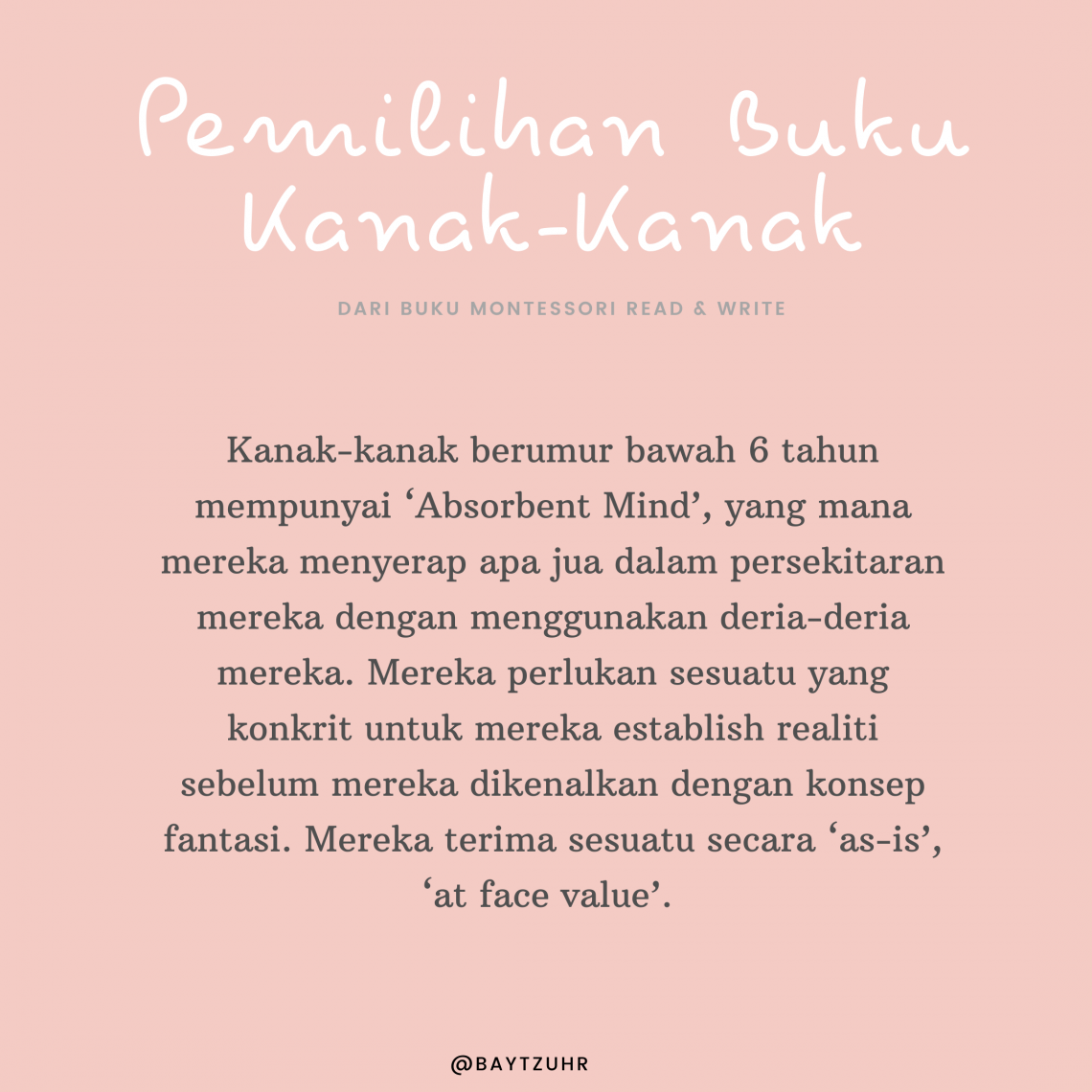 Pemilihan Buku Kanak-Kanak
Ringkasan dari tips dalam buku Montessori Read & Write.
Saya ada tulis dalam blog ringkasan ni, tapi buatkan dalam bentuk macam ni untuk senang rujuk dan baca.
Untuk lebih lanjut, boleh baca di blog atau buku Montessori Read & Write.
Buku-buku has benefitted so much to us.
Pengalaman saya sendiri, up to 7-8 tahun saya dibesarkan oleh moyang saya and she was a teacher. Mengajar di sekolah rendah. Dah pencen pun masa saya membesar di sana. Dalam rumah takdelah picture books cantik-cantik, tapi di rumah ada banyak buku-buku latihan yang tulisannya cantik-cantik oleh pelajar tahun 6. Moyang simpan buku-buku tu di rumah dan beri pada saya untuk saya baca hoping saya menulis dengan cantik dan kemas. Haha. (Nampak sangat tulisan cakar ayam). Saya masih ingat memang saya banyak belek-belek buku-buku tu dan buku-buku tu adalah nota untuk kuiz (tentang general knowledge). Saya rasa dari situ saya mula developed love to books walaupun saya tidaklah kategorikan saya sebagai ulat buku. I love love love mystery books, Siri Hadi, Siri 3 Penyiasat etc. Nak habis sekolah rendah, sangat suka komik, Komik Cina (Pendekar Laut, anyone?) kemudian Manga. Dari minat Manga tu, I appreciate good illustrations (as a fan, tidak expert dalam illustrations pun. Hee)
Masa lahirkan Haris, pada awalnya tak banyak pun saya beli buku untuk kanak-kanak, picture books. Tapi berharap bila dia dah besar dah boleh baca, dia pun suka membaca. Tak ingat bila mula collect picture books, mungkin lepas dapat Hana, kami slow2 collect.
Mulakan read aloud sebagai rutin. It's a really really good bonding activity. Tak kisah kita busy mana, stay at home mom, working mom, busy parents, take a time to read aloud, bukan hari-hari pun tak apa, seminggu sekali pun ok. Invest in good books, good illustrations, good content.